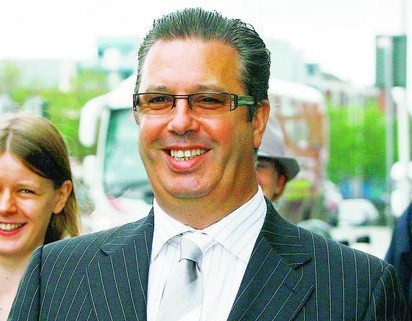 Okay, I don't know if anyone seriously considers Gerry Ryan a likely contender to take over from Pat Kenny on the Late Late. But the possibility (however remote) is excuse enough for me to get this story off my chest. It dates back to a 1990 episode of the television programme School Around the Corner. And it's about time I shared it with the class…
I'M COMING TO GET YOU GERRY
EOIN BUTLER has been waiting around the corner to pounce on Gerry Ryan
(published Evening Herald, October 9 2008)
According to a new report published this month by the Justice Resort Centre in Massachusetts, the effects of a traumatic childhood experience can scar a person well into adulthood. If that is the case, then perhaps I should place the blame for all of my adult failings squarely at the door of Gerry Ryan and School Around The Corner.
Back in the early 1990s, a young researcher came to our school looking for children to appear on a new television show. For whatever reason – perhaps because I was loathe, then as now, to let anyone else get a word in edgeways – I happened to be one of those chosen. We duly arrived on set on the appointed day and were introduced to G. Ryan in all of his (then) pony-tailed pomp.
After a quick introduction, we were left alone onstage, while he signed autographs for the studio audience. I snuck a peek at the clipboard stashed beside me on the couch. Despite the fact that I had spoken to the researcher at length on almost every conceivable subject (I remember even advocating the release from prison of Nelson Mandela at one point), his questions for me concentrated almost exclusively on household chores.
"You're the only boy in your family" Ryan informed me, once the cameras were rolling. "I'd bet that means you do a lot of household chores."
Of course you bloody do, I thought. It's written down in front of you in black and white. I prattled through the list. Turf, coal, lawnmower, removing dead mice from mousetraps – the usual stuff, I thought.
Then he asked me about football. Perhaps I should have been more reticent here. But at the end of the day, I was an U-10 getting a regular game with the U-12s. There wasn't any point in false modesty.
Now, obviously, the sight of a skinny, prepubescent boy, who thought he was on a par with Ruud Gullit or Marco van Basten, was amusing to an adult audience. And Ryan milked it for all it was worth.
"Would you consider yourself a tough guy then?" he asked.
It was a yes/no question. Either answer was suicidal in the circumstances and, as a child, I lacked the guile to deflect it.
"Yeah, I suppose I am", I replied.
That was it. My fate was sealed.
Watching the programme on the television when it appeared was embarrassing. But even more embarrassing was when they replayed it on video for my entire school in the assembly area the next day. At the time, New Kids on The Block had just had a big hit with a song called Hangin' Tough.
For months afterward, every time I walked down the street kids heads would pop out of houses, shops and even passing car windows to taunt me.
"Hey Butler!" they'd shout. "Woooow-aa-oo… hangin' tough!"
Every time I thought it was over, there was more humiliation yet to come. A year and a half later I was called up to the U-14 football team and, in my very first match, was marking a boy almost twice my height. When I went to shake hands with him before throw-in, he punched me hard in the stomach and I collapsed on the soggy turf.
"Not so tough now, you little bollocks!" he sneered.
I think it was then that I decided that, one day, I would get my own back on that f-ing bastard Gerry Ryan.
[N.B. The study cited at the beginning was completely fictional. The Herald were looking for a column on short notice and the G. Ryan story had killed in the pub the previous night. I needed a hook to make it newsworthy.]
April 13th, 2009.