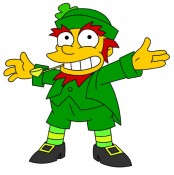 The Simpsons premiered their Irish special at a screening in the Lighthouse Cinema in Smithfield this morning. The episode was slightly better than I had expected, but only because my expectations were very, very low.
It'll air on Sky One tomorrow but, if you can't wait that long, I can reveal that:
1. There are appearances from Glen Hansard and Markéta Irglová. Who'd ever have thought the lead singer from The Frames would one day guest star on the Simpsons?
2. In the Q.&A. afterwards executive producer James L. Brooks mentioned that it takes about a year to make a Simpsons episode. It shows. The Ireland depicted is a prosperous country with a confident, optimistic population.
3. It's unclear where O'Flanagan's Pub (which Homer and Abe are tricked into buying) is supposed to be located. On the one hand, drinks are priced in euros. But when the pub is raided at the end (after Homer allows patrons to smoke) the police are wearing PSNI uniforms.
4. There was a joke about Kathy Ireland which no one laughed at, presumably because none of us had any idea who Kathy Ireland is.
5. Despite having a slightly more enlightened depiction of Ireland than in previous episodes, most of the cliches you'd expect are featured nonetheless: pubs, drunkenness, the Blarney Stone, Lucky Charms etc. Then again, as an Irish writer who was suffering from a crippling hangover, I was in no position to lecture anyone about perpetuating stereotypes(!)
March 16th, 2009.