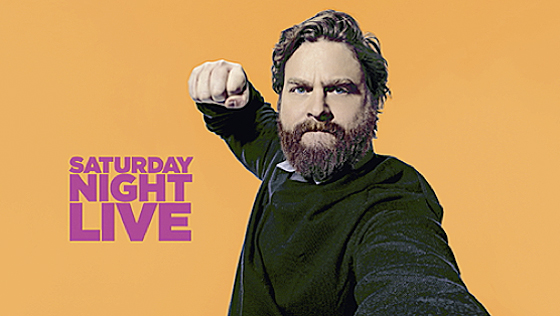 Yay, Zach Galifianakis presents SNL for the second time this weekend. Last time he described his look to the audience as:
* lighthouse attendant
* homeless professor
* marijuana Santa Claus
* Vice President of Ultimate Frisbee
* person who looks like they write on alpaca message boards
* Wolf Blitzer at Burning Man
He also claimed to Febreze his beard. As with even the best SNL episodes, it was an uneven show. But Galifianakis's contributions were hilarious. So expectations couldn't be higher for Saturday night. Here some promos he's done with Andy Samberg. If you're wondering why I'm able see US shows online when you're not, click here.
UPDATE: Some monologue highlights.

I'll never forget what my grandmother said to me right before she passed away. She said "What are you doing?"
I have a lot of interesting things coming up. Next week I'll be at Long John Silvers and, in April, I'll be babysitting my sister's children via Skype.
I wear a lot of Axe bodyspray. But I live in a black neighbourhood, so it's called Ask bodyspray…. (pause) If you don't get that joke, you're not a racist.
[I must be racist then. It's funny, Travellers do the exact same thing. A few years ago I was training an U-10 gaelic football team and some of the Traveller kids who'd turn up for training looked a lot older than ten.
One of them swore blind he was nine. When I voiced some skepticism, he insisted "Axe me brother, axe me brother…"]
The only time it's good to shout out I have diarrhea is when you're playing Scrabble.
P.S. He also shaved his hair into a mohawk for the finale, presumably just so he could say the words "Unfortunately, we didn't get to do the Mr T sketch."
March 11th, 2011.