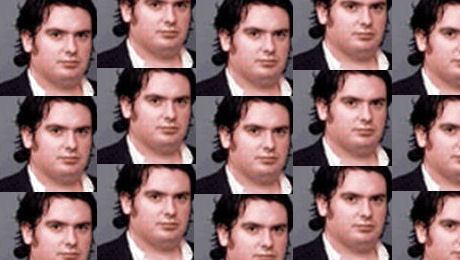 Last week I expressed surprise that Ian O'Doherty had not been taken to task over some really callous homophobic invective in a recent newspaper article. Now I'm a little wiser. Having a rational argument with O'Doherty, I realise, is like having a fist fight with a toddler. There is no glory in it.
Yesterday in the Indo, he fired back at me. Well to be fair, he first chipped in a really stellar (even by his own lofty standards) think-piece about bras, which concluded with the burning question: "After all, who wants to live in a world where chicks with massive hooters aren't celebrated?" Then the gloves came off.
Though professing not to know me, nor to have any quarrel with what I had written about him, he referenced (apparently without irony) my supposed "bitterness" and "talentless outrage." Really, in terms of the guy having a comically low self-awareness, he could only have topped that by singling out my drooping jowls and pass Leaving Cert standard English.
There are lot of sad, lonely, embittered people out there. And they all seem to read ISpy. And then blog about it.

One blog, written by someone called Eoin Butler, had a pop at this column last week when he was offended by an item. And while that's fair enough, some of the comments posted underneath were interesting.

One person claimed to have sat beside your hero in DCU while doing a journalism MA in the '90s, which came as a big shock.

Granted, a lot of that decade remains shrouded in a chemical haze, but I'm, pretty sure that DCU would never sink so low…
For what it's worth, Ian, I never believed that disgraceful slander about your having had an education. Not for a second.
…while another person dismissed this column's praise for Nick Cave's The Boatman's Call by saying: "see what cutting edge 'sounds' Ian is reviewing this week. That's right, a Nick Cave Best Of from 13 years ago."

Okay children, here's a little lesson — this column doesn't review new albums, it recommends classics that might have slipped through some people's nets and, more crucially, it's not a bloody best of, it's a masterpiece.

There was also a remarkably libellous assertion posted before being eventually removed — some people in the Indo suggested suing, if only for a laugh. But what could he offer as payment? Ten per cent of bitterness? A basket of self-loathing? A bushel of talentless outrage?

No thanks.
You may think what's remarkable here is that O'Doherty has studiously ignored the substantive point I raised, concentrating instead on completely off-topic comments left by other readers. That is remarkable, but only if you know nothing about Ian O'Doherty. The "straw man" approach is his stock-in-trade. That's all he's got.
I was more intrigued by his professing not to know me. I mean, I wouldn't expect that he should. But it still seems a bit odd, given that he has written more than once in glowing terms about stuff I've done. (Lame comeback suggestion, Ian: write that I was surprised you hadn't heard of me, but neglect to mention why…) My friend Mark dug this up yesterday:
One of the most common complaints about Irish journalism – up there with gripes against idiot social diarists, sleazy hacks cum TV judges and the ISpy column – is that the Irish media tends to play things just a little too softly with the great and good of our society.

And then there is Mongrel magazine.

Having been the best Irish publication – Indo excepted, of course – since the sad demise of The Slate, Mongrel has made a name for itself with its annual assault on the boring and mediocre of this country…
I was one of the main writers for both Mongrel and The Slate. However, Mongrel's annual C*nts List, which he goes on to refer to in that article, is something I was vehemently opposed to. I thought it was a really crass idea. It went ahead despite my objections, and when O'Doherty chipped in to say how much he loved it, I considered that the ultimate vindication of my earlier stance.
He also wrote, in arse-licking terms, about my fake social diary, about my commercial feature promoting Satanism, as well as claiming on another occasion to have fond recollections of catching my hapless singer-songwriter alter ego Ollie Higgins playing live with the Kill City Snowmen back in the day.
I can't find links to these articles on the Indo website. The search function there doesn't seem to work very well. Sufficed to say, if I'm lying – he can sue me.
As I recall, it was profoundly unsettling to learn that a troglodyte like O'Doherty approved of articles I'd written. If I had discovered blood in my stool, quite frankly, it would not have occasioned as much agonised soul searching. That's all I have to say, and all I'm ever going to say, about this guy. He can write what he likes about me. I hope I haven't sunk to his level in anything I'd said here. If I have, I apologise. Normal service will resume tomorrow. Yee-haw!
[P.S. With thanks to my friend Colin for the montage above. I'm sure it was a labour of love. I'm thinking of making it my desktop wallpaper!]
April 27th, 2010.