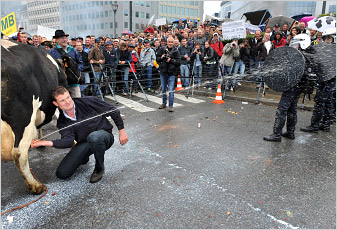 1. Being one of Google Image's top 10 search returns for "cow" is a dubious honour. The massive surge of incoming traffic is welcome, bit until I start hosting 10-10-20 ads, the benefits are im-moo-terial.
2. Today not being April 1st, I'm assuming the French really are serious and McDonald's are opening a restaurant in the Lourve.
3. You know, I didn't laugh out at this once. This isn't funny, only true.
4. Finally, someone I don't know is having dreams about me and writing about them on the internet. She is, she assures me, definitely not crazy…
October 5th, 2009.