Published: The Irish Times, April 28, 2012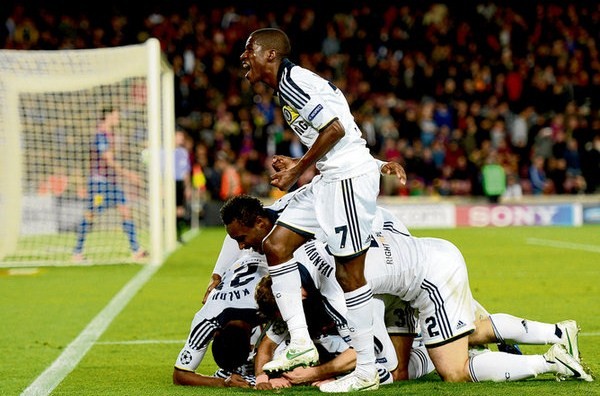 I FELT I HAD A MINOR personal stake in Champions League: Barcelona v Chelsea (TV3 and Sky Sports 2) on Tuesday night. Back in 1997, Chelsea's caretaker manager Roberto Di Matteo was just another brash young Premiership star with an apartment in the middle of London. I was working on a construction site next door.
When he fluffed a penalty against Manchester United in the Charity Shield that summer, I saw fit to offer him some constructive criticism the next day. At the top of my voice. From across the road. (In my defence, I was 18.) He complained furiously to the site foreman, and I could easily have been fired. Fortunately, my boss was a West Ham supporter. I kept the job. In Tuesday's semi-final the shoe was on the other foot. It was Di Matteo whose employment prospects hung in the balance during an enthralling contest at Camp Nou.
On TV3 Mark Lawrenson dismissed Chelsea's hopes of progressing as "loaves and fishes stuff" at one point. He had scarcely uttered the words when an exquisite away goal, against the run of play, by the baby-faced Brazilian midfielder Ramires provided the Londoners with the miracle they sorely needed.
The cash-strapped station never admitted it on air, but as the game progressed it seemed increasingly clear that TV3's commentary team of Lawro and Trevor Welch weren't actually at Camp Nou. Certainly, neither of them spotted the linesman's raised flag, off camera, when Dani Alves's strike was disallowed in the 83rd minute. In the end, Fernando Torres of Chelsea settled the tie with an absurdly unlikely last-minute goal.
"Torres was never going to miss that," said Welch, who clearly hasn't been monitoring the Spaniard's form very closely lately. Over on Sky, Gary Neville greeted Torres's strike with an ecstatic vocal eruption referred to later elsewhere as a goalgasm. It is a description this writer cannot improve on. In a family newspaper, at any rate.
Torres's goal was the only topic of conversation in my local corner shop after the game. No doubt the same could be said for every pub, coffee house, kebab shop, trattoria and hookah bar across Europe, the Middle East and north Africa. That's the magic of the Champions League. At its best, football surpasses even music in its ability to cross political, cultural and religious borders. Hell, it even got me cheering for a man who tried to get me fired in 1997.
DAVID McSAVAGE'S The Savage Eye (RTE2, Monday), by contrast, is a show that appears quite happy to cross no boundaries whatsoever, save those of good taste. It is the umpteenth Irish television programme attempting to unravel what it means to be Irish. When it comes to light entertainment, RTÉ clearly believes the only thing Irish audiences like more than being talked about is being talked about on television.
In the past decade Des Bishop has already carved out a niche essentially telling us about ourselves, ad infinitum. McSavage comes at the subject from a darker place, but the gist is basically the same. McSavage is a man whose comedy often appears driven by bile. That is not a bad thing necessarily. Lewis Black and Charlie Brooker have succeeded with this approach elsewhere through the inventiveness of their language and the clarity and originality of their thought.
McSavage's sketches hit the mark occasionally. His vision of how Henry Ford's career as a motoring pioneer would have panned out if he'd been raised in Ireland rather than the US is not only funny but also right on the money. Elsewhere, though, he leans too regularly on the most obvious targets and the limpest cliches, not to mention on wigs, frocks, ludicrous accents and expletives, where there should be punchlines.
Worse, the show is frequently guilty of many of the faults it castigates the country for. McSavage derides Irish society for being prejudiced, yet he appears at every turn to see the world purely in terms of outdated stereotypes. He mocks us for being an inward-looking people, yet the show is too parochial to appreciate that faults such as laziness, ignorance, greed and incompetence are failings not unique to the Irish character.
He portrays us as suffering from a national inferiority complex, yet he is so preoccupied by what the neighbours must think about this "intriguing little place" that it provides the premise for the entire show.
"IRELAND'S ECONOMY," McSavage's demented economist character observes at one point, "was like a woman who felt she could only attract investors by constantly increasing her breast size." Which quotation is clearly the segue gods' way of hurrying us along to Lolo Ferrari: The Death of an Icon (TV3, Tuesday), a trashy documentary about the late French singer and porn star best known for having the largest bust in the world.
The programme made the not-too-shocking case that those who oversaw Ferrari's surgically enhanced transition to a 54J cup may not have had the woman's best interests at heart. It also examined whether her death, ruled a suicide, may have been murder. It was a sad story of an obviously troubled woman.
But what is arguably as disturbing as the circumstances of her death is the fact that a woman who mutilated her body in a quest for attention succeeded so emphatically that her celebrity still burns brightly a dozen years after her death.
UNLIKE THE US late-night talkshows it superficially resembles, Craig Doyle Live (RTE2, Tuesday) isn't prerecorded. I know this because the host referred to the result of the Chelsea-Barcelona game at the start of Tuesday's show. It was as things progressed, and he introduced a roster of guests that pushed the boundaries of tedium, that I began to wonder about the studio audience.
What were these people doing in a television studio at 11pm on a weeknight watching Simon Cowell's brother being cross-examined about his famous sibling's favourite brand of toilet paper? And what possessed its makers to green-light such a mind-numblingly boring slate of guests? You'd probably have to ask Craig Doyle. Or, failing that, his brother.
Bernice Harrison is on leave
Get stuck into…
The Hunt for Bin Laden (Tuesday, ITV 9pm) is a two-hour special that marks the first anniversary of the raid that killed the al-Qaeda leader.
April 29th, 2012.