Live-blogging the Apparition...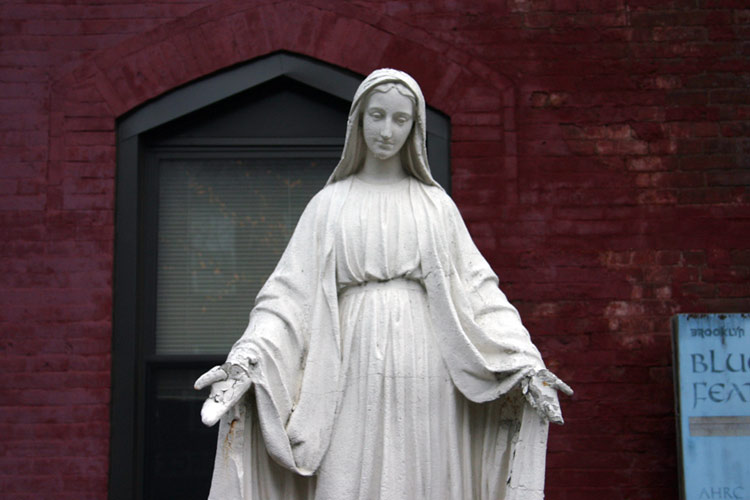 At three o'clock tomorrow today all eyes turn to Knock, where Our Lady is scheduled to make her second appearance in three weeks. Is she going to show up? And, if she does, can it possibly beat the excitement of October 11th, when a bunch of people who'd spent several minutes staring directly at the sun reported observing unusual visual phenomena in the sky above the church yard? She's certainly doing little to dampen down expectations herself. Speaking, in suspicious tabloidese, through her clairvoyant pal Joe Coleman, Mary has promised to make "the biggest statement she has ever made on this earth". Coming from a woman who gave birth to the son of God while still a virgin, that's quite a promise.
Watch this space for updates… Of which there will no doubt be many… I mean, it's not like nothing will happen tomorrow and the whole thing will just be a damp squib… Or would it?
12.14pm Well, it's a cold dry day here in Knock, the ground is firm underfoot and conditions are ripe for a first class apparition here today. The crowds are slowly filing into the church yard and there's a great buzz of excitement here already.
1.17pm Yes Han Shan, I'm really in Knock soaking up the atmosphere ahead of this afternoon's hotly anticipated appearance by the Virgin Mary. The Kilfenora Ceili Band have now finished up their set the crowd are now performing a spontaneous Mexican wave.
2.29pm Crowd starting to fill out, approximately 8 – 9,000 already here. A polite ripple of applause for clairvoyant Joe Coleman as he arrives flanked by members of the local Legion of Mary.
2.31pm Coleman waves to the crowd and points to his watch. Half an hour now.
2.55pm Oh, what's this then? The clouds part and a strange otherworldly music can be heard…
2.57pm An excited murmur passes through the crowd…
2.58pm Choirs of heavenly angels sing in exultation…
2.59pm Yes… yes… yes… Mr Whippy is in the house!
3.08pm The appointed hour has come and gone. Still the waiting game continues.
3.32pm Crowd becoming restless now. Some isolated stirrings of discontent.
3.46pm Stewards in one section of the crowd being pelted with pieces of fruits and half eaten ice cream cones. This could get ugly.
4.02pm Oh dear. Souvenir stands being upended amid widespread pandemonium.
4.09pm Mr Whippy dragged out of his seat and his van torched. Terrible, terrible scenes here.
4.59pm Local parish priest appealing for calm, but he's been knocked off his perch by an old lady swinging an umbrella. Oh the humanity…
October 31st, 2009.