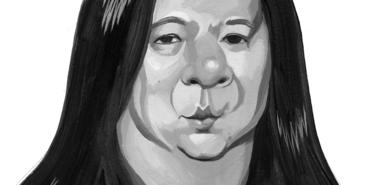 Spotted John Rocha on Exchequer Street, Saturday morning. He was wearing clogs and holding an enormous cigarette holder. Someone told me RTE are doing a countdown of the all-time greatest Irishmen. Well, I'm gutted J.R. didn't make the cut. Because we are nation of chancers and bullshit artists. And this guy is beating us at our own game. Now I have no idea what John Rocha's day job is. I think he designs shoes or something. And I'm sure he's very good at it. I'm more concerned here his sideline as our all-purpose guru-in-chief. This is the role in which I have come to revere him.
He first came to my notice in this capacity a few years ago. I was waiting for someone in a bookshop, when I happened to skim through his introduction to the Kilkenny Shop Book of Irish Cooking. He said, basically, said that Irish people have had a long relationship with food and food preparation, and that recent socio-economic and cultural changes were being reflected in our diet.
I was awestruck. This was the kind of thing I'd always tried to write in the Leaving Cert when I'd written down everything else I had a clue about, but still had one question left to answer. He'd really knocked it out of the park though and he probably got about ten grand for it too. He was my idol.
A couple of years later, my father and I caught him as a guest on the Late, Late Show. (Or maybe it was newspaper interview. I can't remember now.) But he was talking about how he liked to wash his hair each spring in the lakes and rivers of the west of Ireland. Everyone lapped it up. The interviewer almost achieved orgasm.
Well, we laughed and laughed. You had to hand it to the guy. He didn't give a fuck.
There was an interesting postscript though. About a year later, one evening, my father was swimming in Urlar Lake. He was threading water in the middle of the lake, when he looked back to the shore and saw a swanky car pull up. Out jumped a chubby Chinese man. He ran down to the water and stuck his head in. Then he hopped back into his car and drove away.
The entire thing lasted about fifteen seconds. My father started to wonder if he was losing his mind. Then he remembered the Rocha interview. Now, I'll admit, my father didn't tend to talk this way. But if he did, I bet he'd have said "Well, I'll be a sun of a gun…"
April 12th, 2010.