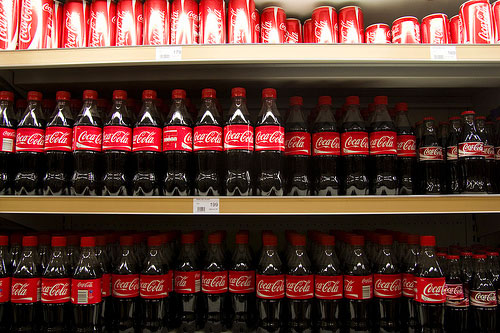 Find myself mooching around the supermarket again tonight. I swear to God, I never know what I want to eat. I'm pretty sure I hate microwave lasagne. But if I do another lap of the aisles, maybe I'll like microwave lasagne. It's weird how it works.
The Adrian Kennedy Phone Show is being piped in. He's talking to the publisher of a new Irish pornographic magazine. As usual, the city's emptiest vessels will be invited to air their imbecilic thoughts once the phone lines open. But first the host gets the ball rolling. "Some people would argue," Kennedy hypothesises (using, what Jon Stewart would call, the old 'I'm not saying your mother is a whore…' voice.) "That what you're doing, basically, is pandering to the lowest common denominator?"
Ha… Now that particlar barb, I think, would carry more venom if it were coming from someone other than the host of the fucking Adrian Kennedy Phone Show. The lowest common denominator? Hell, that's who Adrian Kennedy has to pay to call into his stupid show when the tone needs to be elevated a little. Besides, his take on pornography is all wrong.
The desire to watch strangers getting naked and/or have sex is hardly the noblest of human urges. But it is a predilection that crosses all demographic boundaries. A nuclear physicist is as likely to get off on it as, oh say, the presenter of a moronic nightly radio show. It's left to one of Kennedy's callers to ask the much more pertinent question.
She's an old lady and, no doubt, the producers are hoping she'll tell the porno guy he's going to burn in hell for his sins. But she doesn't. Instead she asks why, in a saturated market, he thinks punters will shell out for specifically Irish pornography when there's so much free international porn on the internet? The publisher ducks the question, accusing the lady of implying that Irish women are unattractive. This forces her onto the defensive and she eventually hangs up.
Her point, however, was a completely valid one. We live in a global economy. And pornography is a global commodity. We read Irish newspapers and watch television programmes – but only because they offer an Irish perspective on current affairs. However, unless Larry O'Flynt persuades the red haired colleen from those John Hinde postcards to get her kit off, there's really no Irish angle on upskirts or doggy style.* The guy's magazine will, therefore, most likely fail and fail miserably.
Which gets me to thinking… There are parallels here, I think, with the Irish music industry. It is a truism rarely questioned that we each have a duty to support it. But to be honest, I've never entirely understood why. Don't get me wrong, I love Irish music. There are songs like, say, The Lakes of Pontchartrain or The Broad Majestic Shannon that resonate with me in ways I would find difficult to put into words.
There are also many Irish artists (Van Morrison being the only one who springs to mind right now), whose music easily compares with the best of what you will hear anywhere else in the world. Where I part company with many of my friends is in not automatically giving preference to a generic rock/pop/alternative band from Dublin over a band from Dallas, or a band from Galway over a band from Glasgow.
It sounds quaint now, but back in the day when people actually bought CDs, my only priority was to get the best possible value for my money that I could. I didn't give a shit where the band came from. The Arcade Fire album cost the same as Bell XI. Jay-Z cost the same as Mic Christopher. To me, that was like saying Athlone Town are playing here and Barcelona are playing across the road. Oh, and the tickets are the same price. As a consumer, it's no contest.
I'm sure people will say, well it's not a case of having to choose one over the other. But when you're a student with fuck all money – it is. When you have a full time job and little time to yourself – it is. When you're a music lover who only has only X number of years on this earth – and there is all this brilliant, joyful, life-affirming music bursting out of everywhere from Tokyo to Trenchtown and Montreal to the Mississippi Delta – who really gives as shit if Dry Country have changed their name to Alias Empire.
You could call them Hank Halfhead and the Rambling Turkey's… they'd still be shit.
Hmmm…. Turkey. Ham. Cabbage. Mashed potatoes. Dodgy looking gravy. Straight out of the microwave in four and a half minutes. Yip, I think we have a result.
* Actually, according to urban legend at least, there does exist an Irish snuff movie in which the female lead exhorts her male co-star to "horse it into me there, boss." I don't know anyone who's actually seen it though.
February 24th, 2010.