Published: Irish Times, April 19 2008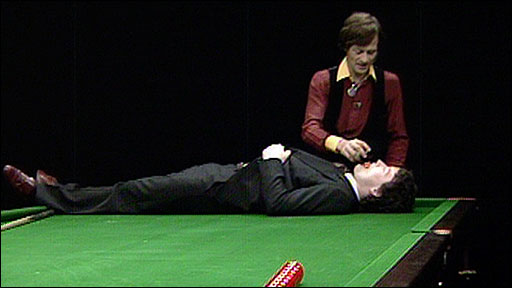 "Make a bridge hand," he orders. "Get your elbow flat on the table." I hastily comply. He nods. "That's better." Seamus Brereton has been playing snooker competitively since the age of sixteen. In his day, he represented Ireland and got to know many of the sport's biggest names.
Today he competes on the Over-40s circuit and coaches youngsters in his native Edenderry. "The parents know the kids are safe when they're in the club. It's not like years ago where snooker halls had a bad reputation. Those days are long gone."
Gone perhaps, but not forgotten. When snooker legend Jimmy White visits Ireland, Seamus still acts as his driver, practice partner and unofficial minder. "When Jimmy comes to Ireland, he likes to have the crack. He enjoys himself. But Alex… Alex was crazy." Brereton recalls a night in 1982 when Alex Higgins, World Snooker Champion at the time, was paid £3,000 to play an exhibition game in Edenderry. At the airport, Higgins demanded his fee upfront and gambled the entire amount away en route in a bookies in Clane.
After the exhibition, Higgins drank until the early morning, slept for an hour and was driven by Brereton to Waterford, for another engagement that night. "He got another three grand in Waterford and gambled that too," Brereton recalls. "He spent that whole day drinking and ended up potting three or four centuries at the exhibition that night, stoned out his mind. The crowd loved it."
"I brought him back to the airport the next day and he hadn't a shilling to his name. After picking up six grand in three days!"
Brereton would have liked to play professionally, but didn't make the grade. The brother of an Irish boxing Olympian, he boxed a bit himself and even picked up an Irish title. He was also a useful soccer player. "I would have been a bit of a jack of all trades" he concedes today. "Maybe if I'd concentrated on the snooker, I might have made the breakthrough."
The key to success in snooker, he reiterates time and again, is practice. But even that's no guarantee anymore. "When I started playing snooker, if you were good at the game and you practiced hard enough, you got rewarded. Nowadays though, there are so many kids coming up, the competition is much harder. You need the gift, the temperament… the whole package."
The walls in his snooker room at home are decked out with souvenirs from his playing days. He draws my attention to the felt on the table though. "See this?" he says. "I put it down last October, but it might as well be brand new." He shakes his head sadly. In the old days, Seamus and his friend, the late Peter McNally, would play for up to twelve hours a day.
These days, with family commitments, he doesn't play nearly as much as he would like to. Friends drop by occasionally for a game. But after a couple of hours they'll want to go to the pub or go home.
But he continues to give his best in competition. "I'm still ranked forty-second in Ireland, which isn't bad for a 52 year with all these whizz kids coming up. When the Irish championships come up I'll be putting in two weeks practice ahead of it. They know me and they won't fancy meeting me."
SNOOKER FACTS
• The 2008 World Snooker Championship begins today in Crucible Theatre in Sheffield.
• The term 'snooker' originally derived from a slang term used in the British army to describe a "young, inexperienced cadet".
• The first World Snooker Championship took place in 1927. But it wasn't until the BBC started broadcasting the sport in 1969, as a showcase for colour television, that its popularity really took off.
• The first maximum break of 147 point recorded at the World Snooker Championships was by Canadian Cliff Thorburn in 1983. It took him almost eleven minutes to clear the table.
• Fifteen years later, Ronnie O'Sullivan accomplished the same feat in just 5 minutes 20 seconds.
• The ban on tobacco sponsorship in recent years has been a blow to the sport, but it continues to gain in popularity in China and the Far East.
December 2nd, 2010.