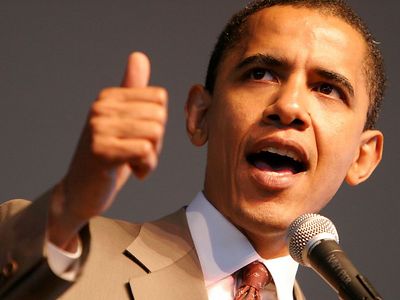 The decision, announced within the last hour, to award Barack Obama the Nobel Peace Prize is an utterly baffling one. In fact, I assumed it was a joke when I first heard about it. I like the guy. And I like what he's trying to do. But he hasn't accomplished any of it yet. So they're honouring him for having good intentions. Hey, Nobel prize committee – I got good intentions! Where's my award? Obama been in office less than a year and, to date, he's achieved – give or take – nothing:
Not in Israel/Palestine. Not in Iraq. Not in Iran (where he failed to support a popular democratic uprising.) Not in Afghanistan (where he's sending in thousands of troops to bolster a corrupt and fraudulently elected leader.) Not in nuclear proliferation. Not in North Korea. Not in Darfur. Not in health care. Not in gay rights… The list goes on.
He may yet prove himself a good, or even great president. But rewarding him prematurely in this manner will only serve to diminish the prestige of the Nobel Prize and fuel the rabid conspiracy theories of his staunchest domestic opponents. I don't know if it's within his power to decline the honour. (Sartre declined the Literature award, didn't he?) But if Obama could find some diplomatic way of doing so, he should definitely consider it.
America has not yet woken up to the news. But I suspect that, over the next few hours, there will be hell to pay on the right. Coming at a time when some bipartisan spirit will required to make progress on health care reform, that's the last thing the American people need.
October 9th, 2009.