Published: Irish Times, 20 November 2010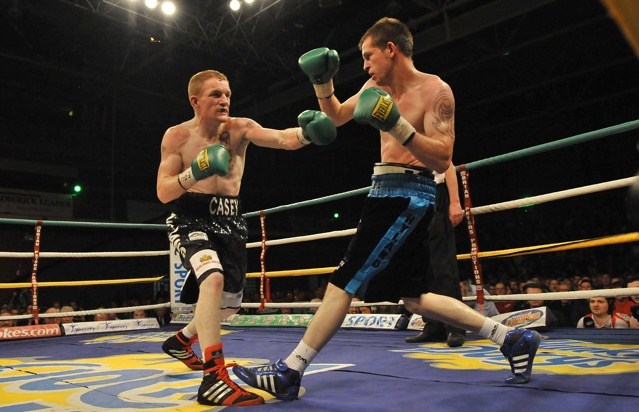 WILLIE CASEY
Newly crowned European Super Bantamweight Boxing Champion
Congratulations, first of all. It must have been a thrill to win like that in front of a home crowd?
It was. Even having a European title fight in Limerick was a dream come true, to be honest. So winning it was just the icing on the cake. But it wasn't just a case of turning up on the night and going through the motions, you know? A lot of time and preparation went into it. Luckily, it paid off. I'm over the moon.
You were away from your family for eight weeks training. Was that tough?
It was because, at the end of the day, family is first. My kids mean more to me than anything else in the world.
You grew up in a family of 23 children yourself.
That's right. I grew up in the travelling community. There were twenty three of us. We're all good now. We get along. But it's tough. You've a lot of kids leaving school early and not doing much with themselves. People fall into depression and then drugs and drink come along and that's a lot of worry for their parents. What kept you on the straight and narrow?
My family, I suppose. I grew up with a lot of lads who died from drugs. My own brother died from drugs, to be honest with you. The worry and the stress that they cause to people when they're alive, and then the heartbreak they left behind themselves when they died – it made me determined to make a success of my life.
You were the first in your family to do the Junior Cert.
In troubled estates, it's all about keeping teenagers off the streets. I'd always gone to homework clubs after school and then when I was older I went to outreach groups. These things are there for you and they're for your own good. But it's up to you to make the best of it.
You played football, hurling, rugby and soccer. What made you concentrate on boxing?
Boxing was in the family, I suppose. Also I'm a welder by trade. When you're working all the time, the night time is the only time you have to train. Boxing is indoor so that's no problem. Later when work started to slow down, I was able to put more time into it. It's the one-on-one competition I love. You're not depending on anyone. It's all down to yourself.
It's also pretty lonely when you lose, is it not?
Well, I wouldn't know about that yet. (laughs) Seriously, like, it's about doing your best when you're in the ring. When I come out, if I know I've done the best I could have done, then I'm happy either way.
You turned professional last year. Was that a big step up?
I had to be persuaded to go into the professional game. To be honest, I was a little bit doubtful at first. You know, these auld negative thoughts would be going through your mind. Thoughts about where you're from, thoughts about being a member of the travelling community. I was wondering if I'd get any kind of a following.
You seemed to have an enormous number of supporters in the UL arena on Saturday night!
It was amazing. Thank God, it's worked out for me. To hear people roaring your name, being able to feel how proud they are of you… It's hard even to describe. The number of people who wished me well and went down to the church and said prayers for me before the fight. That's a big boost in this game. That's a big boost in any game. I hope it will inspire other kids from disadvantaged communities to go and do their thing too, whatever that is.
A lot of travellers have turned professional in recent years. Do you think travellers face less discrimination in boxing than they do elsewhere?
I think regardless of how far we come in life, some amount of discrimination will always be there. If you look at the American president, he's an African-American. Will we ever see a member of the travelling community elected Taoiseach or president in this country? I don't know. So for me, it's about learning how to deal with discrimination and get on with it. If I can achieve what I've achieved, then anyone else can do the same.