Published: Irish Times, November 15th 2008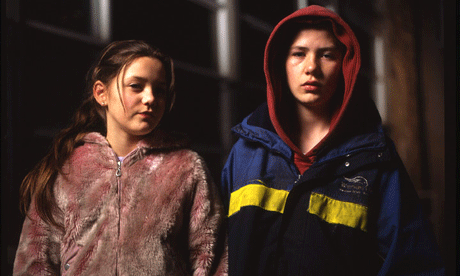 As interviews go, it's not your typical scenario. I'm seated on a barge on Dublin's Grand Canal. In my hand is a list of handwritten questions. On the bench opposite are sitting the two young stars of Lance Daly's highly acclaimed new feature film Kisses. My Dictaphone is lying on the table between us switched on. So far so good, you might think. Well yes, except that at some point in the last five seconds World War III has broken out.
Kelly O'Neill is straddling Shane Curry and raining a series of vicious blows down on his head. Curry is retaliating in kind, loudly accusing his leading lady of being a "doody-headed nincompoop." (Although my Dictaphone has been known to be a little erratic and those might not be the precise words he uses.) One thinks of Michael Parkinson's disastrous interview with Rod Hull and Emu. One remembers the old maxim about children and animals. One starts to wonder indeed whether it will be possible to salvage anything from this interview.
The violence is real. The animosity between the pair appears genuine. But seconds later, when their publicist sticks her head around the door to check up on us, tranquillity is restored. When the publicist disappears, Kelly makes a rude gesture in Shane's direction. "Ya bleedin' thick," she sneers. The film the pair are promoting is already being compared to John Carney's Oscar-winning sleeper hit Once. But, quite frankly, I tell the pair, you wouldn't catch Glen Hansard and Markéta Irglová carrying on like this!
As child performers, Shane (13) and Kelly (12) may not quite be Billie Barry kid material. But when they're not tearing strips out of one another, they do appear to share a certain bond. They're both impetuous, but likeable, kids. Indeed their rambunctiousness was one of the reasons they were chosen for their roles in the film. Kisses tells the story of two troubled children named Dylan and Kylie, who live on sprawling housing estate in a disadvantaged Dublin suburb. The pair run away from home and spend "a night of magic and terror" on the streets of the inner-city.
With themes of alcoholism, sexual abuse and homelessness explored, the filmmakers felt that conventional child actors might not be able to effuse the roles with the gritty edge required. So the decision was made to find two genuine inner city youngsters to play the parts. Casting director Nick McGinley auditioned over a thousand unknowns in his search for the right actors. He was looking for headstrong characters with the personality to bring the characters to life onscreen. As it turned out, it was a simple act of disobedience that landed Kelly O'Neill the role of Kylie Lawless.
According to the filmmakers, girls reading for the part were instructed to sit on an uncomfortable wooden chair for the audition. All of the candidates but one complied. The one who refused was a brash Stoneybatter schoolgirl, who insisted dragging over a more comfortable chair. The producers were impressed with her assertiveness. But over the course of the shoot Kelly's obstinacy would prove problematic. In fact, according to one report, filming on Kisses was once shut down for eight hours, when the female lead locked herself in her trailer over a missing packet of jelly beans. Kelly denies this ever happened. ("I don't even like jelly beans!" she scoffs.)
Whatever the truth of that, the force of Kelly's personality was such that the filmmakers for a time despaired of finding a Dylan who could hold his own against her. Most of the boys who auditioned, when ordered by the young diva to fetch cups of tea or biscuits for her, meekly obliged. It was only when the producers overheard one young auditionee from Crumlin tell her to get lost, and make her own f-ing tea, that they knew they'd found their man.
While the end product is a treat for cinema goers, the film was, by all accounts, not so easy to make. Sugar highs, boredom and short attention spans among the leads played havoc with shooting schedules. ("Sometimes the crew would be shouting 'We need more time'", director Lance Daly told one blogger. "And I'd be shouting 'Shoot, shoot! Before we lose them!'") Even now, both of his stars appear rather ambivalent about the whole project. So Daly, whose previous films include Last Days in Dublin and The Halo Effect, deserves enormous credit then for coaxing such effective performances out of these reluctant actors. Whatever his secret was, it would be nice if he could share it with me right now. Because, likeable and all as these kids are, and entertaining company though they may be, getting an interview out of them this morning is like pulling teeth.
Did they enjoy making the film, I inquire? Both just shrug and say nothing. It must have been exciting to work on a film set, with assistants and gofers at their beck and call, and not have to go to school? "Workin' seven days a bleedin' week" says Shane. "That's worse than bleedin' school." That's as much as either can be persuaded to say. It can't be easy, of course, for two hyperactive pre-teens to sit still for an hour and answer dull questions from a complete stranger about something thing they did over a year ago. But it's not exactly a breeze on this end either.
Question after question of mine is met with either a monosyllabic answer or stony silence. Some straightforward queries are deemed too "stupid" or "boring". The standard trick for journalists, when an interviewee refuses to answer a question the first time, is to ask the same question a second time, but this time phrase it differently. The shoot must have been fun, I suggest. When that doesn't elicit a response, I ask how they enjoyed working with the film crew. "The crew was deadly" nods Shane. "Even the bus driver was deadly." "I seen that bus driver yesterday!" Kelly exclaims. "Where was that?" asks Shane. And so it continues. Further attempts to steer the conversation back to topic prove utterly futile.
It's almost impossible to draw the pair out on any issue. Of the six days they spent at the Toronto Film Festival – during which they received widespread praise for their performances (despite requiring a translator to be understood by the press) – Kelly will say only that she met a lot of people but no longer remembers most of their names. (Kelly missed the more recent trip to London Film Festival, she says, because she was suspended from school.) Shane suddenly interrupts. "You look a bit like Mac, the producer of the film" he says, pointing at me. "You talk like him too. Where you from, the country or somewhere?"
At a loss, I ask if they enjoyed working with co-star Stephen Rea.
"I hated him" says Kelly.
"He's a gobshite" Shane concurs.
Why?
"He's boring."
"Just stupid, like."
"We were really hyper" Kelly recalls. "And he was like 'Stop it, will ya? I'm tired and I want to go home. Can we just get the work done?'
(If it's any consolation, Mr Rea, I'm beginning to understand how you felt.)
By their own addition, Shane and Kelly fought a lot on the set of the film. I ask them what sorts of things they fell out over? Neither replies for a second. Then Kelly slaps Shane hard on the shoulder. Shane retaliates by slapping her on the knee. Within in the space of a second, another full blown brawl has broken out. I pick up my pen, write the words 'Everything and anything' in the space beneath that question. Then I shrug. These two are worse than the Gallagher brothers.
Sensing that neither enjoys venturing opinions or reminiscing about events past, I change tack and ask who they're planning to bring to the film's premiere. Both, I've been told, are allowed bring eight guests. Shane has his list all planned out. "Bringing my uncle" he announces, counting the names out on his hand. "My two cousins, auntie, boyfriend, grandda…"
He's bringing his boyfriend, I note. That's nice.
"Me auntie's boyfriend," he yells.
His auntie's boyfriend, of course. How silly of me. I apologise to him for the misunderstanding.
"Good" he scowls. "You better be sorry."
Perhaps, I suggest, he'll bring his boyfriend along to see the film when it goes on general release. Shane bangs his fist on the table.
"Are you stupid or wha'? He's not my boyfriend, okay?"
Kelly giggles. Shane scowls at her. It's Kelly's turn to look irritated now. "Is this going to be much longer?" she asks. She's obviously had enough. We'll just do the written test now, I tell her. Kelly's eyes widen. I'm only joking, I assure her. As I get up to leave, she tells me she has a favour to ask. I purse my lips. I'm not sure that I can help her. I try to explain to here that it's not really the done thing. In print journalism, certainly, I tell her, it would be considered highly unorthodox. But she's looking at me with puppy dog eyes now and, alas, and against my better judgment, I cannot say no.
And so it is I agree that before signing off this article, I will include best wishes to Emma, Michelle, Lauren, Jordan, Lee, Chloe, Austin, Lee H., Kelly's mother, father, granny and grandfather. That's not your typical closing paragraph. But then, as I may have mentioned earlier, this wasn't your typical interview.