Published: Irish Times, July 11 2009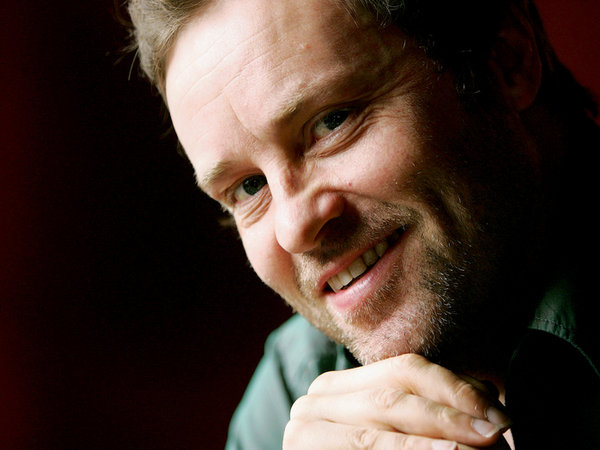 THERE'S NO GETTING around it. Not when you speak to him on the phone. Certainly not when you sit down with him in person. Eleven years have passed since he hung up the old dog collar, and the actor's hair is now showing flecks of grey. But to fans of Father Ted , the much-beloved sitcom on which he made his name, the two are indivisible: Ardal O'Hanlon and Dougal Maguire. Dougal Maguire and Ardal O'Hanlon. There are some cosmetic differences, of course. In conversation over coffee in the Westbury Hotel, O'Hanlon does use the occasional profanity (it's mildly startling at first, despite the fact that he has done so in his stand-up act for years). It's also impossible to imagine Dougal observing, as O'Hanlon does, that for an Irish comedian to try to ape the technique and generic subject matter of an American performer would be an exercise in futility. (The Monaghan comic recently toured the US with Dylan Moran and Tommy Tiernan.)
But the similarities – the superficial ones at least – are overwhelming. It's in the eyes. The voice. It's in that split-second pause he takes, during which I just know that the next thing he says will be funny.
Neither are there any trappings of fame in evidence, to remind me that I'm talking to a accomplished actor, comedian and author here. When we sit down for the interview, there are no PR people hovering. In fact, O'Hanlon even calls me personally in advance to confirm the arrangement.
In the decade since Father Ted , the Monaghan comic has gone on to enjoy continued success, starring in two BBC sitcoms, My Hero and Blessed . (The former ran for five series with O'Hanlon in the starring role – two more than Ted's three.) He has also made TV documentaries and toured extensively as a stand-up. His 1998 novel The Talk of the Town, meanwhile, was recently selected among Peter Boxall's 1,001 Books You Must Read Before You Die .
So if he resents the way such a respectable body of work constantly gets overlooked in interviews, he is probably entitled to. But such is the grip that Ted continues to exert over the public in this country, this writer included, that we stubbornly refuse to move on. No wonder then that the release of his new film, Wide Open Spaces, is so eagerly anticipated.
Shot in Kildare and directed by Tom Hall (Bachelors Walk), the film reunites O'Hanlon for the first time with Father Ted co-creator Arthur Mathews, who wrote the script. Elements of the plot too, which centres on a woefully misconceived scheme to open a Famine Theme Park in the rain-sodden Midlands, could also have been lifted directly from a lost episode of the show. The film score was even handled by another Ted veteran, Neil Hannon of The Divine Comedy .
But O'Hanlon seems keen to dampen any expectations that old glories are set to be revisited. "It's a fairly low-key indie movie with some very funny parts to it," he says. "But it's not a sitcom. It's performed in a much lower register than a sitcom would be. We were very determined not to have any histrionics and not to force the humour in any way. I think Arthur has moved on enormously since Father Ted and he was keen to do something very different."
In that regard, Mathews has certainly succeeded. Wide Open Spaces is a dark, slapdash comedy that is likely to bewilder as many as it amuses. It doesn't possess – nor does it aim for – anything like the broad appeal of Father Ted. Early reports cited the breaking up of a friendship as one of the film's main themes, igniting speculation that the story might have been inspired by the break-up of Mathews' writing partnership with Graham Linehan, with whom he created Father Ted. If nothing else, the finished product surely puts paid to that theory.
O'Hanlon and Ewen Bremner (Trainspotting) star as a pair of ageing slackers who chance their way into the debt-collecting business after meeting an eccentric entrepreneur (Owen Roe) in a Dublin pub. Any attempt to summarise the plot beyond that would probably be pointless.
"It's about men of a certain generation and mindset," explains O'Hanlon. "Men who don't have careers or girlfriends, who aren't members of the golf club and don't play tip rugby in the park during the summer. It's about men who find it hard to relate to other human beings. These characters are misfits and all they have is each other."
He's full of praise for his Scottish co-star. "Ewen brought a real rigour to it, a real discipline. He's a very serious actor, someone who brings a huge effort into everything he does. I think he kept us all very honest, in terms of keeping it real and truthful. He always asked the question: 'Why? Why are we doing this? Why are we saying that?'"
As well as promoting Wide Open Spaces, O'Hanlon, who returned to live in Ireland with his family a number of years ago, has just completed filming the Mathews-penned sitcom Val Falvey TD for RTÉ. He's also in the process of writing his first play, but intends to return to stand-up in the autumn. What possessed him to consider a career in comedy in the first place?
He talks of debating as a student in DCU and how that led him on to found Ireland's first alternative comedy night, the Comedy Cellar, in Dublin in 1987, with Barry Murphy and Kevin Gildea. ("For the first year or so we played to the exact same audience every week… And told the exact same jokes!") In those early days they would take any gig that was offered, twice even playing in Wheatfield Prison. ("Once for the sex offenders and once for the ordinary murderers.")
It was an extraordinary baptism of fire, but those sorts of gigs stood him in good stead in the long run. "Getting up in front of the toughest crowds, you know, playing pubs in South Armagh – where people didn't necessarily even know what stand-up comedy was – you had to force yourself to do it. It went against every instinct in your body, but you did it anyway."
By the time he moved to London in the early 1990s, the comedy clubs there held no fear for him. We talk too of his television work. After Dougal, his next major role was as the equally gormless, equally likeable, George Sunday on My Hero. Even his unlikely turn on the edgy teenage drama Skins doesn't buck the established pattern too much. O'Hanlon plays Kieran, a teacher who earns the trust of a troubled pupil only to blow it, by making a clumsy pass at her when she comes to look for his help.
Instead of being lecherous though, O'Hanlon's character comes across as bumbling but ultimately sympathetic. "In terms of being typecast," he says, "if you do something like Father Ted that infiltrates the public's imagination to the extent that it did, I think realistically you're not going to be asked to do something radically different from that very often. But it's not a problem."
There's a clip on YouTube in which he can be seen attempting to explain to an American interviewer how popular Father Ted was in Ireland when it was first aired. If anything, I tell him that he seems to underestimate the show's impact – as a teenager in Mayo, I would sneak into our local pub on a Friday night to watch it. People of all ages, all occupations and backgrounds would gather to watch it. They'd shut up, listen and laugh together at the show, in a way I've never seen happen before or since.
"That phenomenon kind of passed me by," he admits. "By the time it came out, we'd have already rehearsed it, recorded it and watched previews. We were over-familiar with the material. And you move on. By the time the series came to air, I was working on a novel, I was doing stand-up, I was doing lots of other things. I'm aware though," he adds, "that there's a perception out there, for a large proportion of the population, that it's all I've done in my life. But that's never bothered me, because I know I've always been very busy. I get up every morning the same as everyone else, and scratch my head and just get on with the job. Whatever that job may be."
[Slightly awkward interview because I'd seen an advance screening of Wide Open Spaces and thought it was just one of the worst things I'd ever seen. Off the record, O'Hanlon came about as close as he could in the circumstances to letting me know that he felt the same way.]