Published: Mongrel Magazine, March 2004
Singer-songwriter, free spirit, decent skin...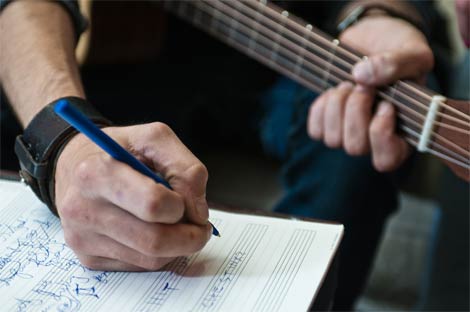 It's Friday night and the atmosphere in Whelans is so electric you could cut it with a knife. Declan O'Rourke – the enfant terrible of Irish song – has an American tourist in a headlock and is attempting to extract cash from her purse. In the far corner Gemma Hayes and Paddy Casey are huddled over a Connect 4 set, lost in thought. It's a heady scene. But for now the buzz is all about one man: Ollie Higgins.
The former drummer with ill-starred Dublin rockers The Kill City Snowmen is here to launch his debut solo album, Hope Street. ("It's like a cross between Black Sabbath and The Andrews Sisters" he explains. "If that makes any sense!") His acoustic solo set throws up a few surprises and, of course, a couple of old favourites. By the time he closes proceedings with his now legendary cover of The Spice Girls' 'Wannabe', it is clear that we have witnessed a night that will be etched forever in the annals of Irish rock. But let's rewind a bit first, shall we?
"It's the old story" says Higgins with a wry smile. "The Snowmen signed to Polymer in the late 'Eighties. Six figure deal, headed straight into the studio to start work on our debut album. Thought we had the world at our feet." But things quickly went sour for the band. First, the A&R man who signed them, Jeff Peters, dropped dead. ("Just literally keeled over at our signing party!") Worse was to follow. "I think the label expected us to be the next U2, kind of thing" he recalls. "But that just wasn't our vibe. We wanted to be the next Simple Minds."
A tense stand-off ensued. An album, Unholy Brainwater, was in the can, but the record company were dragging their feet about releasing it. Meanwhile, the impoverished members of the Snowmen were forced to subsist on a diet of sawdust and soap shavings. When guitarist Fearghal Cadbury was hospitalised with scurvy, he decided to quit the band. Backed into a corner, the remaining members decided to come out fighting. In early 1993, they marched into Polydor offices in London with an ultimatum: Label bosses either put the album out or release them from their contract.
It was gamble… and it backfired catastrophically.
"From then on we were literally prisoners at that label. The suits would go out drinking in the evening and when they got back, you can imagine… They were horny as hell." Over the next six years, the band were forced to participate in degrading sexual acts on a nightly basis. If they told anyone, label bosses warned, they'd never be believed. "Besides," adds Higgins. "They said it was in our contract. Which, to be fair, it was." Clearly The Kill City Snowmen got some very bad advice starting out. "Oh yeah, no question. But those record execs were using us as their guinea pigs. Acting out their most sordid sexual fantasies on us. That's not what any of us got into this business for, I can assure you of that."
In 1999 the contract with Polydor finally expired and the band found refuge on independent Picnic Records. A year later they released an album, Globules of Pride. It was well received by family members of the band. But with no promotion, no distribution and no manufacturing, it failed to chart. Undeterred, they promptly went to work on a follow-up. In the freak weather conditions of April 2002, however, the Connemara farmhouse in which they were recording was flattened by a tornado. Two months later, the plot of land on which the band were rebuilding the studio subsided and fell 200 meters into the sea. That was the final straw. The Kill City Snowmen went their separate ways.
For a while, Higgins earned a crust playing bass in Mundy's touring band. ("Me and Munds go back yonks, he's such a great songwriter. [sings] Oh-my-my-my / oh-my-my-my / oh-my-my-my-myyy Juuuuly… I could never do what he does.") But all the while the Dubliner was hatching plans of his own. For years he'd been writing songs, songs that – for whatever reason – no one he'd worked with would touch with a barge pole. He needed to exorcise them from his system. But he was so disillusioned with the music industry he couldn't face shopping around for another deal. That's how Lunchbox Records came about.
Starting up his own label was something Higgins had been contemplating for some time. To prepare, he took a few courses in Ballyfermot Music College. "My grand vision – I suppose you could say – for Lunchbox [Records] was that it would be a completely self-sufficient operation. For instance, by gaining expertise in stuff like glass mastering and electroplating, I'm now in a position where I can handle the manufacturing myself – right down to synthesising the liquid polycarbonate the CDs are made out of!" It's not a model that would work for all musicians, but Higgins is really making a go of it.
Amid this flurry of activity, the 34-year-old also somehow found time to record the twelve haunting songs that comprise his Hope Street album, songs that run the gambit of emotions from happy to sad. When he met Today FM's Tom Dunne at Christmas he passed him an advance copy and thought no more about it. But his old mucker was impressed, and when he started playing tracks from it on his Pet Sounds show the response was through the roof. Since then he's being touring the length and breath of Ireland winning over new converts one by one. ("Sometimes literally one by one!" he laughs good-naturedly.)
To what, then, does Higgins attribute his growing popularity in singer-songwriter circles? "I think there's a realness to my music; an honesty; a complete lack of any sense of glamour or mystery or invention that people can relate to. Songs like 'Common Man' and 'Decent Skin' you know… People can make assumptions. They can say, well you know, he's written a song about a recording studio that fell off a cliff ['Disaster Strikes.'] Oh, it must be autobiographical. But to be honest, I'm just strumming the auld guitar, and whatever comes out, comes out. I'm just the vessel for it, you know?"
Such is Higgins' obvious passion for the music, you get the impression he'd happily talk about it all night if you gave him half a chance. Unfortunately, he has an early start in the morning so he make his excuses. The music industry has taken out a potentially ruinous High Court injunction against Lunchbox Records and, true to form, the valiant troubadour is representing himself. Before he departs though we shake hands and I wish him all the best. Ollie Higgins: remember that name, folks. Something tells me we'll be hearing a lot more of it in the future!