Published: Irish Times, May 15 2010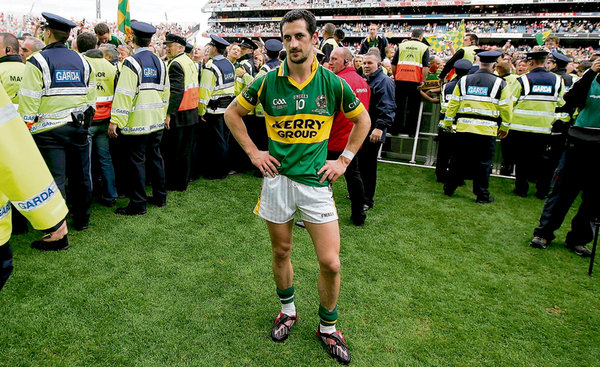 PAUL GALVIN
GAA badboy reveals surprise fondness for ladies clothing
What's the mood in the Kerry camp on the eve of the championship? I'm going to take a wild guess and say "confident"…
I suppose you could say we're confident. (laughs) We're confident every year. It's impossible to know how things will pan out. But we're optimistic.
Kerry are reigning champions. Where do you see the biggest threat to your title coming from this year?
Well, Cork are obviously the hot favourites. They've made no secret of their ambitions and they're the team to beat. The Dubs have changed tack. They look a more savvy bunch this year. They're more defensively minded, more aggressive. And Tyrone are definitely going to be back there with another sting in the tail. What are the sacrifices required to play football at inter-county level?
The Kerry panel convenes in January and stays together until whenever we exit the championship – which is usually September. You're talking about training and gym work four or five nights a week. Matches at weekends. Then you're holding down a day job too. It's very hard on the old social life. Weddings and family occasions have to be sacrificed. Having a few pints at the weekend goes out the window. It's hard for the wives and girlfriends too, because you can never plan holidays or anything like that.
What are the perks then? I imagine it's like being a mobster in Goodfellas. You know, you walk into a grocery store and get bumped straight to the front of the queue…
(laughs) I don't know. You meet people. You make contacts. There's definitely a bit of that goes on. Certainly in Kerry, people are very respectful. When you go out for a meal or whatever, you get treated well. Without them making a big fuss of you or anything. It can be useful at other times too. Business people would always be very generous to us, you know yourself.
Someone who knows you told me that you have some unusual interests away from the game.
Well, fashion is probably my biggest interest. I buy GQ, Esquire, ID and keep an eye on what's coming down the line by different designers. There's a guy called Christopher Bailey, who designs for Burberry – I like what he's doing at the minute. Tom Ford always looks good for men. Christopher Kane too. I like a lot of ladies fashion too. I watch a lot of Fashion TV. I don't watch a lot of sport at all.
You're always wearing headphones before a match. What do you listen to?
I like a bit of hip-hop, a bit of R&B. I listen to a lot of Jay-Z, Dizzee Rascal. I love the London grime scene. That sort of thing.
Following your sending off against Clare in 2008 [Galvin famously slapped the referee's notebook from his hand], you got a hard time from the press.
Yeah, that whole incident – the intrusion into my family, journalists contacting my colleagues and friends – it left me quite cold. But I know journalism is a difficult game. Everybody needs a story, everyone has pages to fill. So I'm not bitter about it.
One paper published photographs from your girlfriend's Bebo page. For an amateur sportsman though, it was a lot to put up with!
The way some elements of the media went about their business left a very bad taste. But as I said, I won't waste time being bitter about it.
Kerry looked to be a team in decline for a lot of last season. But you came good in some style at the end.
You're right. It did look like it was going to go belly up. But we hung in there and our experience got us over the line even when we weren't playing well. Luckily, when we got to Croke Park, things changed. Ah, it was a lovely thing. It was a fairytale ending in a way.
That's what I was going to say. To come back the and win Player of the Year was an amazing turnaround.
It really was. That was obviously a very gratifying experience.
In a Paul Galvin biopic, the credits would have rolled right there and then. But this is real life. It's a new season and you're now one of the elder statesmen of the Kerry team.
I know, it's amazing really. That only hit me a couple of week ago. We had a training session and there were one or two guys injured. I looked around and realised that I was the second oldest guy on the field. Christ, it seems like only the click of a finger since I was the new guy – now I'm one of the older heads. There's a lot of new blood coming in and I want to show them what it means to be a Kerry footballer. The attitude that's required. The responsibility. I'm very conscious of the Darragh O'Ses, the Seamus Moynihans, the Liam Hassets that came before me. The left a legacy to me that I'm very proud of. Now I want to help to pass it on.
[N.B. I'd have liked to have drawn him out some more on the fashion thing, particularly the ladies fashion thing. But I just couldn't think of any questions. It's one topic I know absolutely zilch about.]