Published: Irish Times, May 23 2009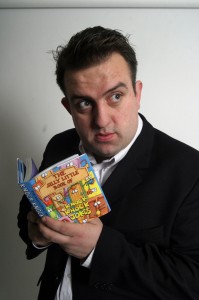 EOIN BUTLER talks to super-sized comic Karl Spain
Everyone remembers the 'Karl Spain Wants a Woman' programme. Would it be fair to describe you as Ireland's answer to Flavor Flav?
No, I'm Ireland's guy that everyone shouts "Hey, did you find yourself a woman yet?" at on the street. I actually met my girlfriend Rachel through that show and we're still together after three and a half years. We were having dinner the other night and it came on Sky News that Katie Price and Peter Andre had broken up after three and a half years. So we were laughing – we've outlasted Peter and Jordan! What were the odds?
That's amazing, so you did a show called 'Karl Spain Wants a Woman' and you actually got a woman out of it? Why didn't you do a follow-up, like, 'Karl Spain Wants a Bungalow and a Flat-Screen TV'?
Well, it's funny you should mention bungalows, because there was some talk of doing a series in which I would try and buy a house. But nothing came of it. I still joke with Rachel that she cost me a second series of Karl Spain Wants a Woman .
You're doing the Carlsberg Cat Laughs Festival later this month.
That's right. I've been doing it since 2002 and I'm really looking forward to it. I tend to go down for the opening Thursday night, even when I'm not playing, because I'll have been waiting 51 weeks for it to come around. All the comedians love Kilkenny. They all want to do it. I'll be playing one of the comedy clubs in England and the other comics will be asking me to put in a good word with the artistic director, Eddie .
You've gotten a lot of mileage over the years talking about, shall we say, your girth. Even the press clipping on your website seem to be having a go. See him now before he gets too big!
That wasn't about my size. I don't think so anyway. That was genuinely a rave review. It was my first ever Edinburgh write-up, I think, and I got four stars.
What about the Metro: "Karl Spain had the audience in the palm of his hand . . ." That's gratuitous. I mean, no one's that big.
That was actually a bad review. The guy actually wrote, "Well, he had the audience in the palm of his hand, but I just didn't like him." I took that line out of context to make it appear good. I try to find positives where I can.
Tell us about your work on the Eircom Soccer Republic website.
It's great. I get to travel with the squad, interview Mr Trapattoni before and after each game, talk to the players and the fans and do different video reports. We do an awful lot of content. There's just Jim the director, John the cameraman and myself. The three of us are almost like a married couple . . .
That would make you Ireland's answer to Jacob Zuma, I think…
Yeah, that didn't quite come out quite the way I intended. The site is a labour of love, but we really enjoy doing it. It got a big launch before the Bulgaria game and it's proving very popular with the fans.
What's Trapattoni like in person?
Incredible. The first time I met him was in Norway for the friendly. I wasn't as star struck as I expected to be. I mean, this is someone whose career I would have followed since I was eight or nine, when Liam Brady went to Juventus. But he's a very impressive guy. The kind of guy who'd inspire you to go out and just run through brick walls for him.
The fact that you speak to Trapattoni through an interpreter must limit the potential for comedy.
That's true, but the comedy is elsewhere. I've had great crack with the players. Trapattoni does have a sense of humour. We have had funny moments with him, but they've been mostly off camera.
Do you secretly hope some day he'll say 'Listen Karl, Kilbane's cruciate is after snapping. We need to fill in on the left'?
Funnily enough, that is actually a bit of a running joke between us, because one day I had to tog out in an Ireland kit for a video we were doing. I asked Trapattoni if he'd consider giving me a run out with the team. He said, yes, but maybe on the bench. Actually, he compared me to Richard Dunne, but I don't think he was referring to my defending abilities.