Published: Mongrel Magazine, February 2006 – December 2007
with Ireland's premiere social diarist, Eoin Butler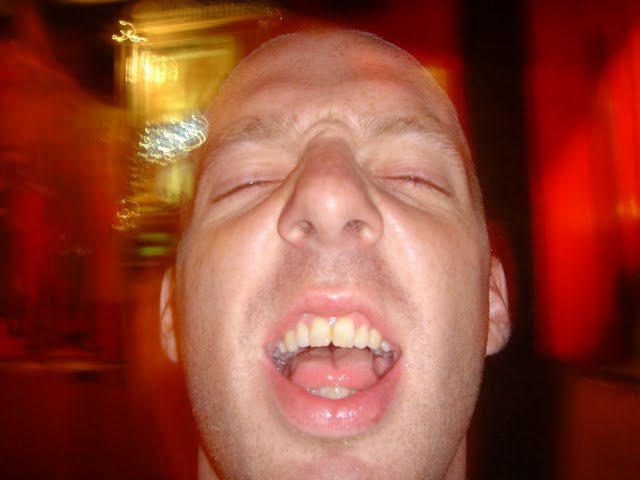 Hasta la Victoria Siempre, readers! Greetings from Buenos Aires! Yes, after months spent battling the forces of the hated GENERAL RODRIGUEZ in the mountains by day, and instructing my ragtag band of guerrillas in the basic tenets of Marxist-Leninism and beard grooming by night; having survived 37 assassination attempts by the C.I.A. and two by the International Red Cross; and with only the fiery and enigmatic "TANYA" for female companionship (her passion for social justice is surpassed only by her passion for yours truly!); deliverance has finally arrived.
Today we entered the capital in triumph and, as we witnessed the opulence in which the regime had gorged itself while the masses starved, I was suddenly struck by a fabulous idea. A couple of well placed calls later and the newly renamed Palace de la Revolution was playing host to the glitziest celebration the city had ever seen. A galaxy of A-List celebrity simpaticos were in attendance, among them SUSAN SARANDON, OLIVER STONE and former Irish soccer international TONY CASCARINO.
* * *
There are doings afoot on the Irish property market! A consortium of businessmen, headed by retired footballer NIALL QUINN, have just announced plans for the construction of a New Jerusalem, where the righteous shall be exalted and where there shall be no more tears or sorrow, and no more pain. The upscale development, which analysts believe may presage the end of days and the second coming of Christ, will be located on the N4 just outside of Athlone.
* * *
A brief aside, readers. When news of my invitation to the memorial service for DIANA, PRINCESS OF WALES broke last month, the resulting media firestorm threatened to overshadow the event. Needless to say, the sensitivities of young PRINCES WILLIAM and TONY were uppermost in my mind at all times. So after consulting with Clarence House, with courtiers, nobles, Ladies of the Garter, Beefeaters, Yeomen of the Guard and the readers of Majesty magazine, it was agreed that I would attend the service in Westminster Cathedral, but that I would hide under a pile of coats for its duration. It was, I believe, the most sensible decision in the circumstances.
* * *
More intrigue in St. Luke's! Tensions within the DRUMCONDRA MAFIA erupted violently yesterday when BERTIE AHERN's BF CHRIS WALL was mown down in a hail of water balloons on the Glasnevin Turnpike. At about the same time, the Taoiseach was enjoying a quiet pint in Fagan's when a mysterious package of fish fingers was delivered to his table. It was a Sicilian message, letting him know his fly was undone. True to form, the Fianna Fail leader immediately moved to defuse the situation.
"Bertie is a cute whore", my Deep Throat confided. "He knows that in a three seater constituency, with an election year looming, and his original running mate having just been unmasked as the infamous Phibsboro Flasher, an undone fly could be seized upon by his opponents as a sign of weakness." So he zipped up discreetly and then stood a large round of drinks, to loud cheers from all present.
All that remains to be seen now is whether the so-called 'Teflon Taoiseach' gets the ride tonight.
* * *
Meanwhile, in another part of town, ruthless crime boss MARTIN 'THE VIPER' FOLEY celebrated his 42nd birthday in style with a gangland-style birthday bash at the RED COW INN. At approximately 10pm, masked raiders entered the venue and commandeered a set of tables using counterfeit 'Reserved' place cards. The dress code was sports-casual, birthday cards were unmarked and non-sequential and guests included Foley's terrifying henchman THE GOUGER (along with his less frightening associates THE PINCHER and THE SCRATCHER).
Afterward festivities continued in the sensational BOOMERANG nightclub, which was later found burnt out and abandoned on the Chapelizod bypass.
* * *
I'm cock-a-hoop, readers, at the news that sexy AMANDA BYRAM and hubby P.J. HOMESTEAD (heir to the illustrious Homestead business empire, don't you know) are with child. The notoriously private couple made the announcement in skywriting above Miami Beach to a select group of friends, including UN Secretary General KOFI ANNAN and former Olympic medallist SONIA O'SULLIVAN. For a man with a reputation for innovation in the boardroom, though, Homestead's progeny was sired in an unashamedly traditional fashion.
According to my insider, the fab foetus was conceived in the missionary position – Dad wheezing, face down in a pillow; Mum clutching Dad's massive hairy back and gazing listlessly at the ceiling.
* * *
Is there no end to the talents of yours truly? First the dishy social diarist was awarded an honorary knighthood in recognition of my tireless charity work for the mutant leper babies of Guatemala. Then my quick thinking saved the life of one of Ireland's most beloved entertainers. Yes, when Her Majesty QUEEN ELIZABETH II mentioned that her close friend GAY BYRNE was feeling under the weather, I swung into action. Bursting into his beautiful Malahide home I immediately administered emergency CPR and the Heimlich Manoeuvre on the ailing RSA chairman. Bundling him into my chic Volkswagen Beetle, I him drove to Dublin airport, pursued at high speed by his adoring family and the Gardai.
After exchanging fire with members of the hunky EMERGENCY RESPONSE UNIT on the tarmac, I hijacked a British Airways Boeing 747 and flew it to an exclusive Swiss clinic where I personally performed an emergency kidney transplant using a kidney of my own that I had removed earlier in anticipation of such an eventuality. The procedure was a success and Uncle Gaybo is on the mend.
My current squeeze SHARON NI BHEOLAIN must be a very lucky lady.
* * *
Evil screen genius KEYSER SOZE was the surprise star turn at KEITH DUFFY's CELEBRITY SOCCER CHALLENGE in Dalymount Park this week. The reclusive Hungarian crime lord proved just as mercurial on the park as he is off it, with a series of jinky runs and sublime passes. Afterward, Soze and his victorious teammates – Australian superhunk PETER ANDRE, French presidential hopeful NICOLAS SARKOZY and pop up-and-comers THE CARTER TWINS – repaired to the trendy Q Bar in Dublin's city centre, where celebrations continued right up until it was Soze's turn to get a round in.
And just like that… he was gone.
* * *
Howzat! Looks like HU XIA's days at BURGER KING could be numbered. With contract renegotiations stalled, the want-away Chinese burger boy has now issued a dramatic come-and-get-me plea to fast food rivals MCDONALDS. Xia is known to be unhappy with the paucity of till experience BK has afforded him. But his public comments have remained circumspect. "I'm still on a rolling two-week contract here and I intend to see it out," he told me. "But RONALD MCDONALD and the HAMBURGLAR were big heroes of mine growing up, so obviously if McDonalds were interested then I'd be very flattered."
Meanwhile over in Dail Eireann, government ministers and members of the Health Service Executive were locked in crisis talks and had to be rescued by the fire brigade.
* * *
Yippiddy-doo-daa, folks! This week saw the long-awaited official opening of DES KELLY FURNITURE's new showrooms on the Long Mile Road. Yes, the self-proclaimed 'CARPET MAN' has done it again, and the stars were out in force to salute this glittering monument to the human spirit. Thinking man's crumpet NELLY FURTADO, reclusive author turned pub-quiz specialist J.D. SALINGER, multi-storey car park inventor KLAUS VON HUMPERDINK and MY AUNTIE GERALDINE were among the illustrious names to RSVP. A fabulous night was had, but it ended on an acrimonious note when my drunken Auntie Geraldine launched an astonishing personal attack on Salinger, whom she accused of stealing her pension book.
The missing pension book later turned up in the ladies toilets, but not before the glitzy banquet had broken up in disarray.
Oh, Auntie Geraldine, you crazy lady!
* * *
A profound melancholy overcame me Thursday so I sat down and wept.
* * *
After another Benzedrine-fuelled week swinging from the chandeliers of truth and dancing on the tabletops of integrity, the new Buddha of Irish celebrity MONDO FROM FAIR CITY and I went on the road, crisscrossing the country in stolen cars in search of kicks and also Mondo's estranged alcoholic father. There followed innumerable lays of camogie girls bebop breakfast roll psychosis boxcars boxcars boxcars Zen Mullingar nothingness and contemplations of Eternity in the carpark outside Supermacs until Dublin became lonesome for her heroes. So we went back, bought a house in the suburbs and lived happily ever after. Adios muchachos!