Published: Irish Times, May 10 2008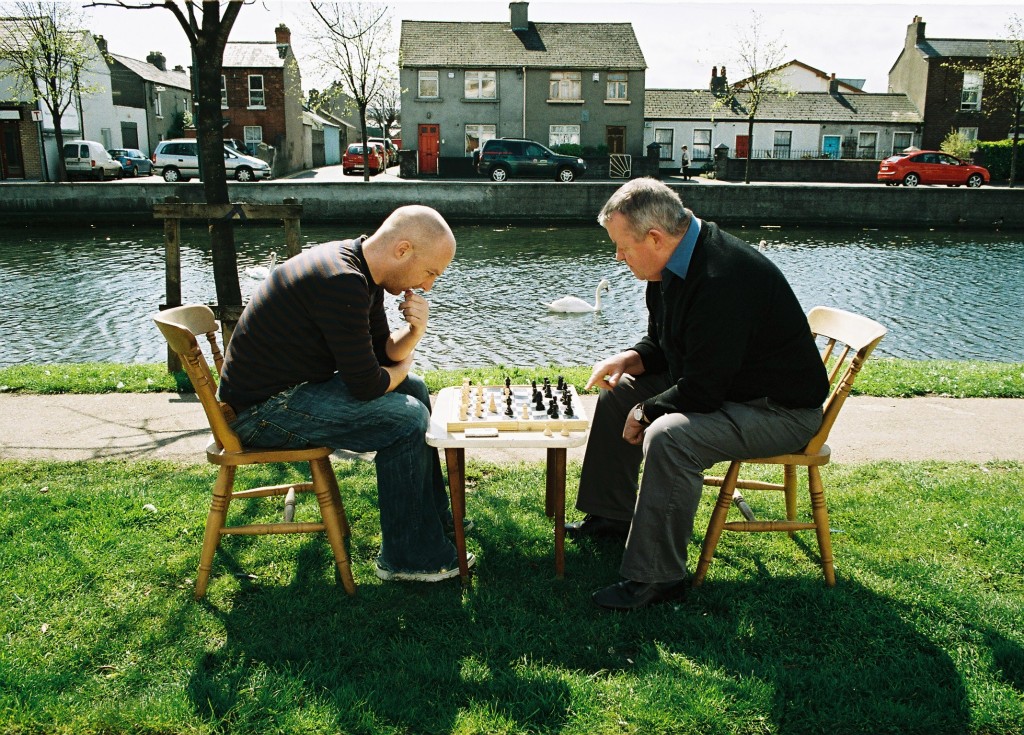 'You're not doing very well, I'm afraid." It's Wednesday morning and Eamon Keogh and I are playing chess on the banks of the Grand Canal. It's a glorious sunny day and a gaggle of swans have glided over to see what's going on. But the two-time Irish champion is unimpressed. He tuts quietly and leans across the table to offer some constructive criticism.
"Both of those were terrible moves, to be honest with you," he says. "I mean, your first move was bad. But the second is practically an international disaster." He shakes his head. There are many renowned opening strategies in chess. This one I'm calling the 'Butler Hara-Kiri Gambit'.
Keogh is a chess veteran with more than half a century's experience. In 1964, he made history by becoming the first Irishman to defeat a grandmaster in competition, beating Sweden's Gideon Ståhlberg at the Chess Olympiad in Tel Aviv. The result meant that the Israeli team progressed to the final at the expense of the Swedes – so it was splashed all over the front page of the Jerusalem Post next day.
Four years later, Keogh and fellow Irishman Ray Cassidy spent eight weeks in Havana, being whisked around in a chauffeur-driven car as guests of the Cuban government. During that trip he met Bobby Fischer in a nightclub and asked him if he'd like to play in Ireland. ("Sure," replied Fischer. "But it'll cost you $25,000.")
Keogh's skills today are no longer as sharp as they once were. "It's a steep learning curve," he explains, "followed by a long, steady decline."
Fortunately, I'm not the most formidable of opponents. "Where did you say you played?" he inquires at one point. Actually, I didn't say. But I happen to be a former Ballyhaunis under-11 Community Games champion. I haven't played much since, but I'd rather hoped the old magic would still be there.
Keogh tells me to think of my pieces as soldiers who must work in tandem with each other. By surrendering possession of the centre of the board, he explains, I have left myself at a tactical disadvantage from which it will be difficult to recover. I give it my best shot all the same.
"You're making me think now," he frowns, after one of my moves. "I don't like that." Lest I get too carried away with my success, he adds: "I have a clear winning advantage though. Your rook is attacked and shortly after I'll take another pawn. This is a position to die for, in fact."
Chess is very popular in Ireland with 26,000 children receiving coaching in schools. Despite this, our Government remains one of only two in Europe not to provide any funding for the game. "We get a lot of pious promises from politicians," he comments wistfully, "but nothing ever happens."
Somehow I doubt that the chess lobby are particularly terrifying political adversaries. But I'm much too polite to say as much out loud.
A man out walking his dog stops by our table for a look. ("It's like Central Park here," he marvels.) Eamon tells the man he's about to finish me off now. "How do I attack such a nice young man?" he wonders. With ruthless efficiency, as it transpires. "See, materially, I'm after giving up one of my rooks there," he explains. "But your king is now wildly exposed and I should get mate relatively quickly. Unless I'm kind to you . . ." His hand dangles above the board. "…Which I don't intend to be."
What, I ask, are the attributes required of a good chess player. "Some level of intelligence, obviously," he replies. But it's not quite that straightforward. Keogh's brain, he tells me, was once tested by a psychologist. He was horrified to discover that he was only of average intelligence. "I always assumed I was practically Einstein," he admits. It is something called "spatial apperception" that sets him apart from us mere chess mortals.
"Checkmate in three," he suddenly interjects. "Can you see it?" I shake my head. As he demonstrates, I mutter the Lord's name under my breath. He flashes a wide grin.
"Just call me Eamon," he beams.
Photograph: Yousef Eldin
With thanks to the Art & Hobby Shop, Jervis Shopping Centre for use of the board.