Published: Irish Times, October 18, 2008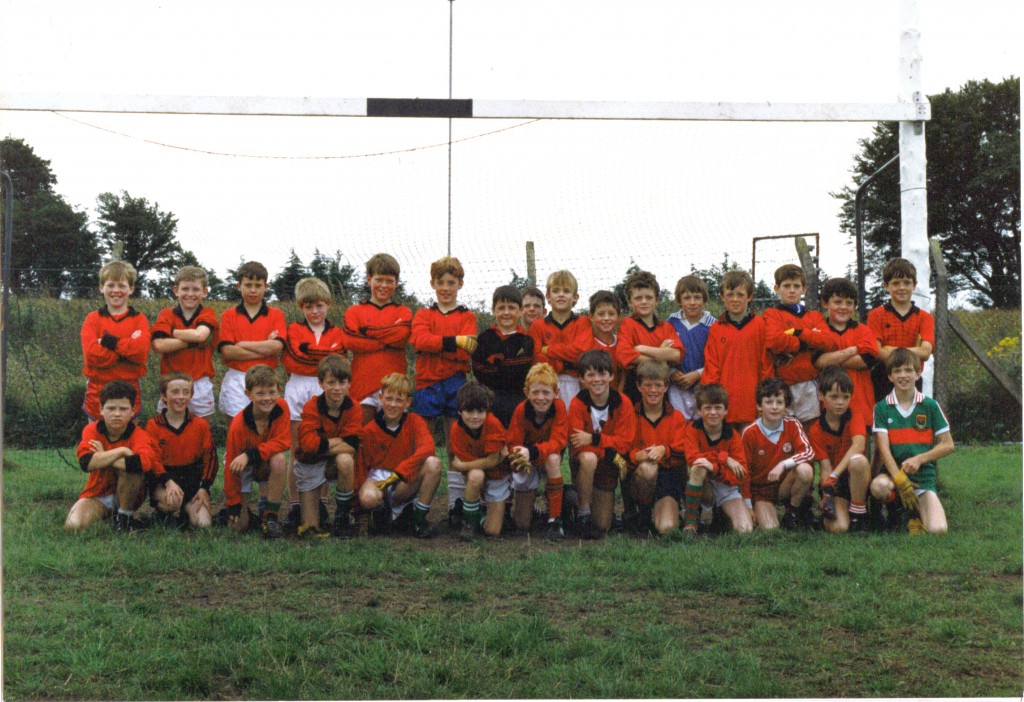 This week, I've been inveigled into writing on the topic 'Food Memories of the 1980s'. It's kind of a tall order, given that I was only a small boy during that decade. It was all a blur of penny sweets and Subbuteo as far as I can recall .
Go on, they said. There must be a few special Eighties food memories that stick out… Well, there was that time Duran Duran dropped by my house and we ate Rice Krispie Buns and played Space Invaders together.
Really, they gasped? No, of course not. I grew up in Ballyhaunis. I didn't eat in a restaurant until I was fifteen. My mother used to buy a chicken every weekend. She roasted it on Sunday morning and we ate it after mass. The chicken might have assumed its ordeal was over at this point. Not by a long shot, it wasn't. She wasn't finished with bird until about a Thursday.
And even then I'd have warned the carcass to stay well out of her way.
As a child, I was constantly baffled at how the kids on our favourite television programme Home & Away had the time to sip milkshakes in the diner on their way to school.
In our house, the morning routine consisted of my mother threatening violence upon us if we didn't all get out of bed in the next sixty seconds. Sometimes she'd throw in headlines from the Morning Ireland, just to spice things up. ("Up, up, get up the lot of ye… The Tories have been re-elected… Up, up, up…") No matter how well rehearsed the drill though – brushing, dressing, eating – we never made it through the school gates on time.
So I wondered, what time do Australian school kids get up at? 4am?
The undoubted culinary highlight of my year back then came in August. Assuming Mayo had made it to that year's All-Ireland semi-finals, my father would bring us up to Dublin for the day on the train. First stop was always McDonalds on O'Connell Street. Everything about that place was magical to me. Even the cheap plastic toys seemed to drip with cosmopolitan finesse.
Afterwards, as a quid pro quo, we'd go somewhere my father wanted to go. We were not the most conventional of football fans, it would be fair to say. I remember once having my Mayo flag confiscated by a security guard at the Hugh Lane Gallery. I bet that didn't happen too often.
I remember once, in those days, watching a television programme once about a Dublin woman and her battle with depression. One of the exterior shots they'd filmed showed her walking past a McDonalds. On the voice over she was talking about how difficult it was for her to cope with the stresses of life, how sometime she even thought of suicide. To me, this juxtaposition was just utterly incomprehensible.
How could anyone who lived within walking distance of a McDonalds possibly want to kill themselves, I wondered? It just didn't make sense.
Outside of that there was slim pickings. My mother had four small children and she ran a fairly tight ship. She did her shopping on a Thursday and we each got one packet of Tayto crisps each. That was it for the week.
But when needs must, you find you're that bit much more resourceful. I had three elderly aunties who came into town for their old age pension on a Friday (I think). And while they were in town, they'd often stay on for a drink or two. I quickly learned that if I walked home slowly enough from school on pension day, a 10p coin might well be my reward.
My grandfather too, until his death in 1987, was always good for a pound note on a Sunday. As was (and is) my nature, I'd blow the lot straight away: Wham bars, Skittles, Mr Freeze's… I never knew when to say to when.
My old sister Una, on the other hand, was a hoarder. She'd wait until long after I'd devoured everything. Then she'd slip a pack of Opel Fruits out of her pocket and very slowly savour each sweet. It was perfectly calculated act of sadism and I still hold against her to this day!