Published: Mongrel magazine, May 2007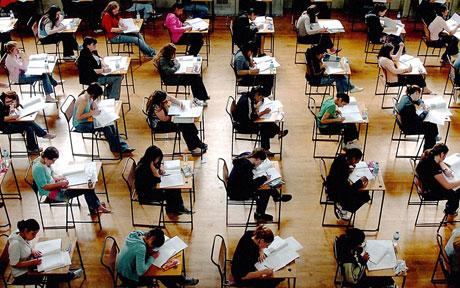 The countdown to Leaving Cert 2007 is almost at an end. When 138,000 nervous students sit down for their first examination at 9.30pm on June 6th, they'll know their chances of securing a university place, well-paid job, desirable home, attractive sexual partner and prospects of siring anything other than ugly, unintelligent children depend entirely on how they perform in the fortnight ahead.
Each expectant youngster will, of course, be aiming to do their very best. But only those who've undertaken my Complete Leaving Cert Preparation Programme (CLCPP) can expect to compete at the very highest level.
Conducted over an intensive two year period (including four months of jungle training), the CLCPP aims to prepare students for the Leaving Cert experience in the most extreme and comprehensive manner imaginable. The vast majority of entrants succumb, sooner or later, to drug dependency, insanity and/or suicide. But each year an elite group makes it through to the end.
However, all students though will benefit from these essential last revision minute tips:
1. Choose an exam pencil case. Brainstorm ideas for what to put in it. Draw flow charts to show how it will be packed. Then prepare a back-up pencil case… just to be safe.
2. Plan out your route to the examination hall and practice taking it in different weather conditions. Practice different routes and different walking styles. (Students who performed best in last year's Agricultural Science exam, for example, were those whose jaunty swagger was punctuated with occasional pelvic thrusts.)
3. Undertake a final run through of your Time Management Strategy (TMS). The following question appeared on the Irish Ordinary Level Paper Two in 2004:
In separate EU surveys carried out this month, Ireland was named the second best country in Europe in which to learn to play the piano, but the worst in which to raise an emu.

(a) Write a formal letter to Minister for Arts, Sport and Tourism John O'Donoghue congratulating him on Ireland's performance in the piano table (85 marks) and suggesting ways in which he can improve on it next year e.g. nicer piano teachers, more comfortable stools cushions etc. (45 marks)

(b) Write an informal note to Minister for Agriculture Mary Coughlan chiding her over Ireland's performance in the emu table (35 marks), telling her about your hobbies (70 marks) and reminding her to call her mother. (30 marks)
How much time should you allocate this question if you're not taking Ordinary Level Irish?
4. Study past exam papers for hidden clues. Identify any patterns you notice emerging. For example, the ninth letter in each of the first nine paragraphs of last year's Home Economics paper spell: C-L-U-B-O-D-E-A. Is this a reference to Minister for Defence Willie O'Dea? Is there a particular nightclub the minister is known to frequent? Will students who also frequent this nightclub be rewarded with higher grades?
5. Enter the CLCPP coercive persuasion programme. We set keywords that subconsciously trigger pre-programmed autoresponse answers. This will free up your conscious thought for strategically timing your bathroom breaks. (A casual reference to ox-bow lakes in last year's Geography paper accidentally initiated a separate plot to assassinate former German chancellor Helmut Kohl. Apologies again for that.)
6. Have a friend temporarily shut down your heart and brain functions so that you briefly experience clinical death. While under – or 'flatlining' – you will be visited by ghostly figures from your past who'll seek violent retribution for past misdeeds and also offer handy revision suggestions.
7. Finally – and I can't emphasise this enough – enjoy yourself!
Eoin Butler is a former fellow of the Irish Institute of Education on Leeson Street. Forced out because of his radical methods, his splinter organisation, the Educational Institute of Ireland, meets week nights in The Belfry public house in Stoneybatter.