Published: Evening Herald, April 2009
Doyles Corner, Phibsboro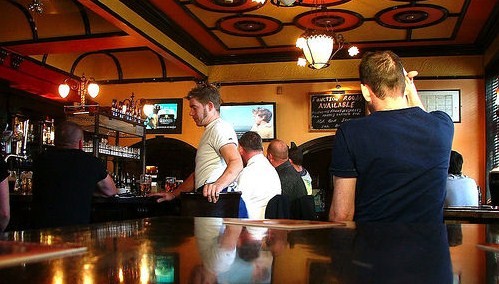 It's Thursday night in Doyles and the hits just keep on coming: Westlife. Kylie. 2 Unlimited. Peter Andre's Mysterious Girl segueing directly into the Saw Doctors N17. This is Phibsboro Uncovered. Yip, it doesn't get much wilder than this. Well okay, I suppose it could get a little bit wilder than this. In fact, we may be the only people present not to currently qualify for a free bus pass. But it's a scene nonetheless.
In the back room, Scally has just learned something new. "They named the street address after the pub?" he asks in amazement. The rest of us nod or shrug. We think so. We don't know. We don't really give a crap.
But Scally has an infinite capacity for astonishment. "D'you really mean to tell me they named the street address after the pub? Are you seriously telling me that? Is that what you're honestly saying here?"
We assume so, yes.
"Unbelievable like" he says, shaking his head. "Absolutely unbelievable."
"Y'know, I'd like to have something named after me," admits Declan. "Even something small… You know, a town square or a football stadium. Anything."
"At least Eoin's name is going to go down in posterity," smirks Cora.
"That's hardly the same thing," says Declan,
A decade on, it still haunts me. They're talking about The Butler. This was a little manoeuvre I invented inadvertantly when I approached an attractive girl, stumbled, fell and headbutted her in the crotch.
But over the years, its definition has expanded to include any romantic overture that fails spectacularly.
"How your love life anyway?" I ask Cora, changing the subject.
Cora has recently embarked upon a man hunt operation that the FBI would be proud of. She fishes in her handbag and hands me a piece of paper. On it are a list of a dozen or so names.
Michael, 28, engineer (very freckly)
Eddie, 35, ESB (nice smile)
Brian, 29, teacher (gay?)
"Speed dating again?" I laugh. "How'd you get on?"
"Let's just say, I'm following a few definite lines of inquiry", she says.
"Well, just so you know," I tell her, "I'm seeing a girl at the moment. So you can count me out of the running."
She scoffs.
"Don't flatter yourself, Butler!"
I look back at the list.
David, 27, central mental
"Central mental?" I ask, raising an eyebrow.
Cora shrugs.
"There were that many, I hardly remember," she admits. "He probably works in the Central Mental Hospital."
"Or he's else been recently discharged…?"
She gives a lovely, self-deprecating laugh.
"Well I'm not fussy," she says.
"You know," I tell her. "I don't think I'm flattering myself… I don't think I'm flattering myself at all."