Published: Evening Herald, Septemer 2006
Wicklow Street, Dublin 2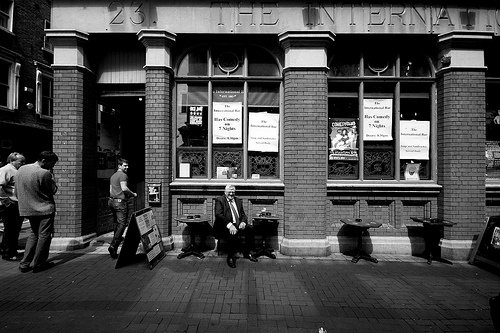 Perusing the Sunday papers in the International Bar, something suddenly strikes me. I hate the Sunday papers. The first six days of the week, newspaper articles tend to begin with sentences like 'The government has announced…', 'Sources in Timbuktu report…' or 'Grave robbers in Ballyjamesduff have stolen…'
But come Sunday, all that goes out the window. Suddenly, it's all 'Is Bebo turning our children into zombies?' or 'Can worrying about my bum give me swine flu?' The answer, invariably, is 'Almost certainly not… But here's 2,000 words and a photograph of Jennifer Aniston (for some reason) just for the hell of it'. The thing I really hate about the Sunday newspapers, though, are those 'A Day In The Life' features. You know, where someone you've never heard of talks about their average Sunday. But you just know it's not their average Sunday they're really describing. They've cherry-picked the five coolest things that have ever happened to them in their entire lives and are pretending that these things happen every week. So it's like: Get up. Make my first Communion. Do a bungee jump in New Zealand. See Linda Martin in Superquinn. Tell her a joke so funny that snot comes out her nose. etc. etc.
In reality, their usual Sunday is probably a lot more like mine: Get up. Wonder where the hell I am. Find nearest Spar and order breakfast roll. Watch football in The Belfry. Fight man with scabs all over his face for control of the remote… Well, that's my usual Sunday anyway. (If there are any Sunday suppliment features editors reading this – call me!) Which is why I've decided to mix things up today. The International Bar is a legendary watering hole i.e. loads of out of work actors drink here.
I'm here with Ranahan. He's the perfect man for Sunday pint. He's can offer a warped opinion on any topic, but he's not uncomfortable either with long periods of silence. We've been here enough times to recognise other regular characters. There's the English guy with the Rasta hat. He plays the guitar and grumbles when people don't shut up. There's the quiet woman who sing occasionally. She brings the house down with a hilariously bitter ditty called 'Don't Get Married Girls'. Then there's the middle aged lady who… well, she may not actually be a woman.
There's an ad on the wall for some beer or other. It's got Dermot Carmody talking about how the International Bar is his local. Two points occur to me: (a) I've been here hundreds of times and I've never laid eyes on the fucker. And (b) he's looking fairly dolled up for a guy sitting drinking pints in the middle of the day, you'd have to say. I wonder how much money did he get for it? (Hmm… If there are any advertising execs reading this – me and the man with the scabs on his face will be in the Belfry next Sunday – let's talk!)