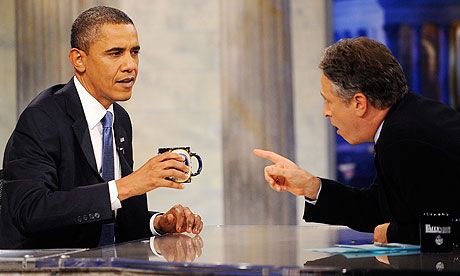 My problem with Jon Stewart's Rally to Restore Sanity is this: The Daily Show host has confused moderation and rationality. Although ostensibly 'political satire', The Daily Show more frequently satirises the way politics is covered in the media. The host's most consistent quibble is the way the media treats politics as a blood sport.
Debate on the American news networks, as he sees it, usually means putting two hysterical partisan hacks, with irreconcilable points of view, into one studio together and inviting them hurl abuse at each other. In Stewart's breakthrough moment during the 2004 election cycle, he berated the hosts of CNN's Crossfire to their faces for presenting a show that was closer to theatre than political discourse. He was right about that. Where he has been consistently wrong, however, is in implicitly accepting the premise of shows like Crossfire. He believes that there are two sides to every debate, that the hysterical partisan hacks bookend the parameters of that debate, and that the most constructive way to proceed is to for moderates on each sides to come together and forge a workable compromise.
All of that is simply wrong. Moderates do not have a monopoly on discernment – far from it. Look at history and ask yourself, what have moderates ever done for us? They probably averted nuclear holocaust during the Cold War, sure. But if the history of humanity is the history of ideas, then moderates have contributed virtually nothing.
On some issues, either the left (civil rights) or the right (privatisation) has been completely vindicated by history. On many other issues, both sides failed equally abysmally to grapple with the reality of things as they were. When Nazism posed an existential threat to freedom and democracy worldwide in the 1930s, few democrats of either stripe appreciated that war against totalitarianism was not just unavoidable, but also winnable.
In Catholic Ireland, meanwhile, anyone arguing that the church was a criminal enterprise devoted only to the consolidation of it's own malign power would also have belonged firmly to what Jon Stewart today derides as the lunatic fringe.
So yes Jon, Glenn Beck is insane. And so too are some of the infinitely less prominent fringe left-wing groups like Code Pink you occasionally target in order to burnish your credentials as an even-handed centrist (and not, shock horror, a liberal!) But tarring all non-moderates with the same brush? That would be insane.
October 30th, 2010.