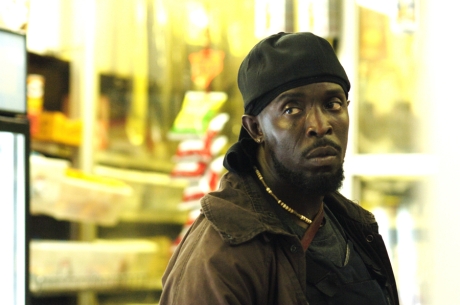 Into my fourth straight week of unrelenting, mind-numbing sobriety now. At the outset, I told my friends that if they were ever doing any, you know, non-alcohol related activities, they might consider inviting me along. To date I've had only one offer. (Whether this is a reflection on my company or their proclivities, I wouldn't hazard to guess.) Last Thursday, my sister texted to say that she was about to drive across the city on unspecified errant. To be honest, I don't know which is sadder – that she invited me, or that I accepted.
Other than that, I've been pricking around, taking on some extra work and trying to get into The Wire. I know I said I wouldn't write about The Wire. I lied. (In other shock revelations, there's no such thing as Santa Claus, friends come and go and you can't always get what you want.) Fuck it, whaddiya gonna do?
Some thoughts then on the 'greatest television series ever made'. After some early bouts of Dominic West-induced narcolepsy, I've started to warm to it. Certainly watching it on television, rather than on my laptop in bed was a smart move. Yesterday, I finished Series One and, today, I went right out and picked up Series Two. So I'm not saying that it isn't entertaining.
But given the claims made by others on its behalf, both here and elsewhere; and given also that its a HBO production; I cannot help but compare it to what I consider the paragon of modern television drama. Based on the first series, I'm afraid it comes up short:
1. As a central character, McNulty isn't a fraction as complex or engaging as Tony Soprano. A hard-drinking, maverick Irish cop? Come on, it's been done a thousand times… In the Sopranos morality, Cosa Nostra is a virus that infects everything it touches. For all the talk of moral ambiguity, McNulty seems to me a pretty conventional white knight character. The fact that he's played by a square-jawed, conventionally handsome actor does little to alleviate that suspicion.
2. It's not as rich or as cinematic as the Sopranos. Every other scene takes place in either the grass at the low-rises or the cops basement hangout. And the supporting cast isn't nearly as formidable as the Sopranos' either.
3. It's not as funny as The Sopranos. With so many great qualities going for it, its easy to forget that the Sopranos was a fucking funny show. The Wire isn't. The Sopranos had Paulie, Christopher, Anthony and innumerable other wiseguys and buffoons for comic relief. The Wire has that fat guy who's the Commissioner's nephew. I rest my case.
4. No one gets whacked? Admit it, half the reason we watch gangster dramas is to see characters get bumped off, preferably without warning and at the hands of someone they trusted. On the few occasions this happens in The Wire, it takes place off screen, and only after it's been clearly flagged. Give me Pussy begging for his life on the high seas any day.
October 29th, 2009.