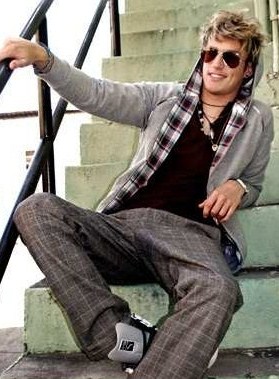 It's been a busy summer for Steve Appleton. Since last I blogged about him, the heartthrob purveyor of acoustic/funk/pop/light-hearted drum n' base/yeah has tried his hand at music criticism, been offered a part in the hit television series 24 and, praise Jesus, finally recorded the follow up to the epoch making monster hit (in my head at least) Dirty Funk.
Meanwhile, those posts I wrote about him four months ago have continued to notch up an insanely prolific 30-40 hits per day (with comments) here and here…
Oh, and his drummer Oliver "Ollie" Kitson, who is possibly related to the Queen, has even been in touch for a bit of an auld chinwag. About which more after the jump…

First up, the bad news. Appleton's second single City Won't Sleep, sadly, isn't really a patch on his debut. The video finds the 20-year-old alone and subdued in Los Angeles, crudely fashioning a lyric sheet from a collection of trite lyric clippings he evidentially keeps stored in his rucksack.
Failing to complete the ditty to his satisfaction, he manfully concedes that he is a million miles away from any place, nay indeed any face, he's ever known. It's a touching admission of vulnerability from the brash young hunk. Thirty seconds later he's piling into a convertible sports car to party the night away with three really hot women. Yip, that's really how fast the Appletiser moves.
One life-changing jaunt through the bowls of the City of Angels later and the voice of his generation is finally ready to put the finishing touches to his latest opus, presumably penning the unforgettably profound (albeit possibly Status Quo-influenced) payoff line "Come on, come on / I've been rockin' all over the world".
Meanwhile, about a fortnight ago, Appleton's drummer Oliver "Ollie" Kitson got in touch to register his disapproval about this article he found posted on my blog. Claiming, semi-truthfully, that the piece wasn't my work (this part is true), and that I rather enjoy Appleton's music myself (this part… not so much), I asked if team Appleton had any plans to visit Ireland anytime soon. "No plans at the moment" Kitson revealed. Then, in a telling insight into how the Appleton juggernaut rolls, he continues: "But I have no idea what he's planning, I'm just a hired gun, I get told where to be, turn up, and play!"
"If I hear anything though, you'll be the first to know."
Fucking hell. Watch this space, people.
August 7th, 2009.