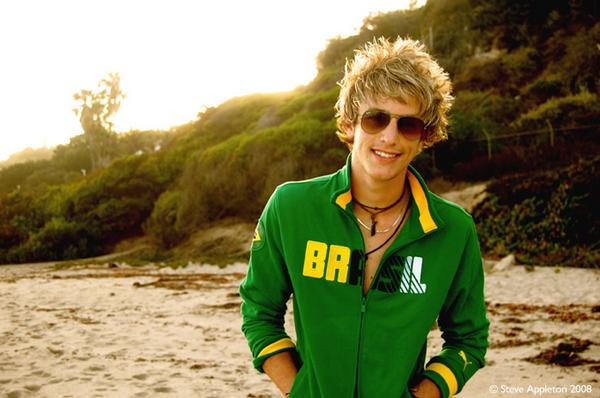 Last week I wrote about acoustic/funk/pop/light-hearted drum n' base/yeah? wunderkind Steve Appleton, and noted the very real possibility that – if his debut single (released May 3rd) is a hit – the 19-year-old will become the most colossal knobjockey to crash the charts, if not since records began, then at least since Vanilla Ice in 1990.
Here my friend Mark offers this exclusive analysis of the Trilby-wearing troubadour, whom he denounces as "emblematically and transcendentally shit".
Pretty much all nineteen year old guys are idiots. Pop singers are likewise universally dreadful. And pop songs — especially ones recorded with the intention of "soundtracking" a summer — are, without exception, awful. So on the face of it there isn't anything especially remarkable about Steve Appleton, the 19-year-old pop singer behind 'Dirty Funk'. And yet he is remarkable in almost every respect. Remarkable, that is, not in the sense of being any good (he's not), but for the specific ways in which he's bad, and in which those ways seem to encapsulate something larger and more profound. He is, in this respect, emblematically and transcendentally shit.

I'll try and explain why later, but first I'm afraid I have to ask you to sit through the video for 'Dirty Funk'; to watch it perhaps more carefully than it was ever intended to be watched. I think you'll find it a bracing experience.
Thanks for that. I owe you one. Now obviously it's not the worst music video ever made. It's professionally produced and competently edited, with some pretty people in it. But it's also, by some distance, the most dickish. In Plato's Theory of Forms, earthly things are mere approximations or impressions of the eternal, ideal forms of those things which exist in heaven. So everything on earth — every dog, every stone, every shoe — is an imitation of an absolute and original form of dog, stone or shoe.

The same is true of abstract concepts like beauty, truth, love, and so forth. What I think Steve Appleton's 'Dirty Funk' represents is the Platonic form of dickishness. I think it's dickishness in a form more pure, more powerfully absolute, than mortals were ever intended to experience. If Chesney Hawkes was the dick-shaped shadow on the wall of the Platonic cave, Steve Appleton is that dick itself: a dick not meant for human eyes.

Where to begin with this thing? The title, which makes bold claims of dirtiness and funkiness on behalf of a song that is conspicuously lacking in either quality? The words, with their almost poignantly futile exhortation to 'Listen up', their arrogantly candid assertions that the 'DJ is spinning it' and that the 'whole club is digging it'? (What DJ? What club? What 'it'?) The stridently unfunky music, the best that can be said of which is that it is — thank Christ — nowise catchy?

No, I think the only place to begin here is with the video itself, a kind of Aladdin's cave of dickish treasures, with each frame piling new riches onto the stockpiles of twattitude.

There's Appleton himself — the Euan Blair of dance-pop — with his architectonically tousled hair, the upperclass mockney glottal stops of his diction, his Etonion-Gangsta hand gestures between guitar flourishes. Then there's the ridiculously overdetermined "coolness" of the whole scenario. Breakdancing? Check! Porkpie hats worn raffishly aslant? Why, of course! Dial-a-hipster keyboardist with giant twatfro and outsized (and indoor) sunglasses? By all means! Narrative conceit whereby conspicuously unattractive fat bloke pulls plug on Appleton's performance, thus inadvertently creating opportunity for everyone to reconvene round at someone's (possibly Appleton's own) loft-style, pinball-equipped gaff, so that the rite of dirty funk might continue to be observed? You bet your ass!

What I particularly take issue with, though, is the "rapping" in the middle, where we are asked to believe that Appleton deals with an irate boyfriend in the following manner:

He came over, like, 'Bruv, that's my girlfriend',
I was like, 'Alright, Mister, pipe down, pipe down,
There's no need to go and have a fight now,
Well, maybe later, 'cos right now,
It's the dirty funk, it's up and away,
And we turn up the drums and have a little rave [and so on …]

There are a couple of very obvious problems with this. I'm pretty sure that if Steve Appleton were chatting up your girlfriend or mine, and if he were to respond to our objections to this by, first calling us 'Mister', and then telling us to 'pipe down', we would probably feel compelled to pipe up a little further still – perhaps even to the point of having a little rave all over his smug fucking face.

More troubling still, if you actually listen to the words — really listen to them — what he's telling us is not just that he says these things to the irate boyfriend, but that, if we are to take him at his word, then proceeds to serenade the irate boyfriend with the very song he had hitherto been singing for us. Listen carefully. The 'pipe down' command proceeds seamlessly into the chorus's exhortations to 'turn up the drums' and so on. This is extraordinary stuff. The possibility of the song going on ad infinitum now raises its head, like one of those eternally self-repeating children's songs ('This is the song that never ends, it just goes on and on my friends …' — that sort of idea).

What we are faced with here is no less than an infinite regress of dickishness, an eternal continuum of dirty funk. This is no small threat. Indeed the prospect is frightening enough to make me stop writing this immediately, and resolve never to listen to or speak about Steve Appleton or dirty funk ever again.
April 20th, 2009.