BLOG
Google Street View London went live yesterday. To celebrate, I'm bringing you this exclusive bird's eye view of the private residence of one of Ireland's greatest ever exports. Not to overstate the case or anything, but I'd rate him the best man in the country, and the master of all men when it comes to fighting. Read the rest of this entry »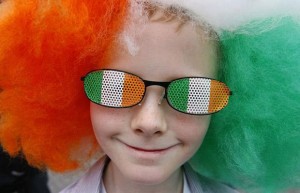 Holy moly, it's like Paddy's Day, April Fools and Christmas all rolled into one… "Drunk Birds Fall From Sky" is the lead headline in today's Northside People (yeah, I keep it pretty real): "Northsiders were shocked this week when a flock of birds literally fell from the sky after becoming drunk on fermented berries in Finglas…" The birds, apparently, died of alcohol poisoning after eating some berries that were growing wild in a housing estate. The front page report also says that the birds, Waxwings, originated in northern Russia. Which is odd, since you'd think at least that they could handle their drink.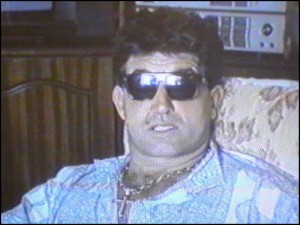 Yesterday, Barack Obama announced the appointment of Dan Rooney as the next US ambassador to Ireland. In his speech, Obama cited Rooney's longstanding support for Irish-American charitable causes. Now, normally, this would be a move-along-nothing-to-see-here story. Except that Dan Rooney's nomination was today sensationally opposed by these two outspoken young gentlemen… Read the rest of this entry »
There were nine seasons of Seinfeld. I've got almost all of them on DVD. (The only DVDs I own, in fact.) One of my favourite scenes from the entire run is this exquisitely scripted exchange between Jerry Seinfeld and the hard-nosed library investigations officer, Mr Bookman.
The scene was written by Larry Charles – who went on to direct Curb Your Enthusiasm and Borat, amongst other things. He got the idea from watching reruns of the 1960s cop show Dragnet, and imagining how life would be if more people conducted themselves in the manner of Sergent Joe Friday Read the rest of this entry »

In honour of the day that's in it.
And the winners are… Read the rest of this entry »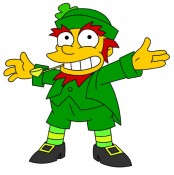 The Simpsons premiered their Irish special at a screening in the Lighthouse Cinema in Smithfield this morning. The episode was slightly better than I had expected, but only because my expectations were very, very low.
It'll air on Sky One tomorrow but, if you can't wait that long, I can reveal that: Read the rest of this entry »
And you thought your girlfriend was crazy…
No idea who did this. It's a recording of Allen Ginsberg reading America (from 'Howl'), set to Tom Waits' Closing Time instrumental, from the latter's 1973 debut album. If that's not confusing enough, the track is illustrated for this YouTube treatment with photographs of Jack Kerouac. Read the rest of this entry »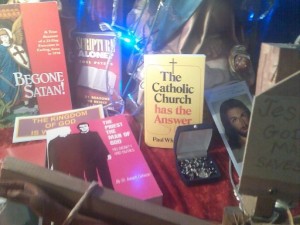 Like a lot of people from Catholic backgrounds, I have a lingering fascination with the religion's, shall we say, oddball fringe. This is a window display from a shop I pass every day. I took this picture a few weeks ago and, while it's kinda weird and all, there isn't much in it for a true aficionado to really sink his teeth into.
Walking past today, however, I was wildly excited to see this… Read the rest of this entry »