BLOG
Published: Irish Times, November 1 2011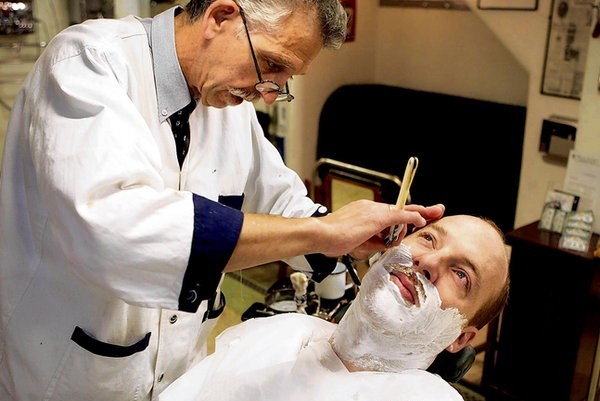 In the cavernous saloon of the Waldorf Barbershop, Liam Finnegan is leafing through a book entitled The Art and Science of Barbering. It is basically a retro Argos catalogue of facial hair. And he's pitching me ideas. "The Divided Handlebar?" he offers. "The Modified Handlebar? The Painter's Brush? The Nightshade?"
The Nightshade looks dangerously close to The Hitler, I suggest. "Oh no, no," he furrows his brow and flicks forward a few pages until he finds what he is looking for. "That would be The Adolph." Christ. How old is the book? He shrugs his shoulders. "Old." Read the rest of this entry »
Published: Irish Times, September 13 2008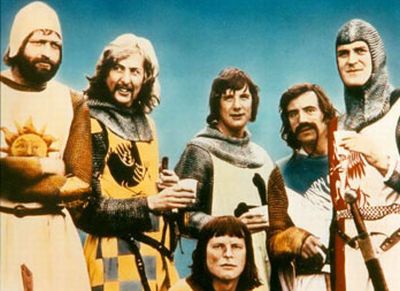 "Anything that doesn't require refrigeration, basically. Chuck it all in a pot and then boil it up…" It's hard to say quite which element of historical military re-enactment least appeals to me. It could be the drafty costumes. It could be the public scorn. Then there's the very real possibility of having my eye taken out by some hyperactive fund manager with a lance. But a new contender has just crept up along the outside rail: the horrific-sounding lunchtimes.
"Oh no, that's not just your lunch," laughs John Looney, the founder of re-enactment website LivingHistory.ie. "That has to last you two days – that's your breakfast dinner and tea!" Read the rest of this entry »

There's A Story In Your Voice
Both of these tracks are relatively obscure Costello collaborations; the first with Burt Bachrach from the Painted From Memory album (1998), the second with Lucinda Williams from The Delivery Man (2004.) They're very different songs and, yet, they're both (to borrow another Costello line) "either side of the same town."
Published: A Century of Flann, Irish Times, October 1 2011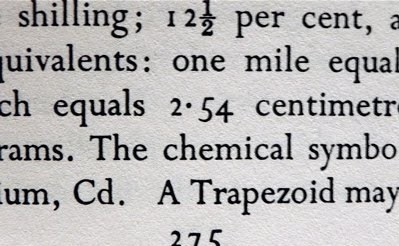 IN 1927, an Irishman named JW Dunne published an eccentric philosophical tome entitled An Experiment With Time. The author was an engineer, best remembered today (if at all) as a pioneer of British military aviation. But in his book he expounded theories that went far beyond matters aeronautical.
Dunne described "precognitive dreams" he had experienced, in which he claimed to have foreseen major world events. This led him (with somewhat reckless abandon) to conclude that time is not linear, and that human beings are capable of existing simultaneously in the past, present and future.
"The kindest that could be said about Dunne's ideas is that they were a little off the wall," says Dr Mark O'Connell, a postdoctoral fellow in the school of English at Trinity College. "A harsher verdict might be that they were completely insane." Read the rest of this entry »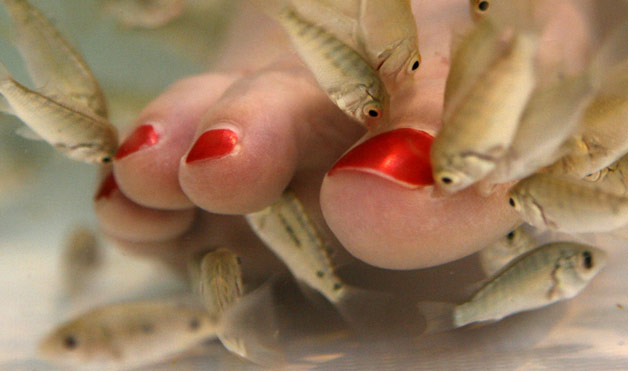 The fish are nibbling away at the dead skin on your feet. They're scavengers, so they'll latch onto anything they find in the water… Read the rest of this interview here.
Published: Irish Times, May 1 2009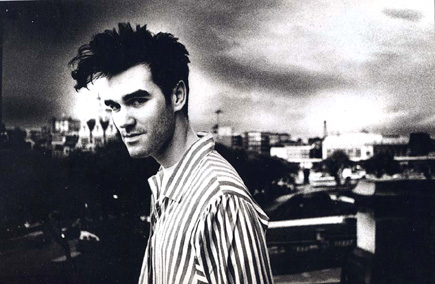 "It's like a cross between going back to university and joining a religious cult," reckons Steve Berry from Hertfordshire, as he surveys the scene. I'd have said a "rockabilly Star Trek convention" myself, but we won't split hairs. Read the rest of this article here.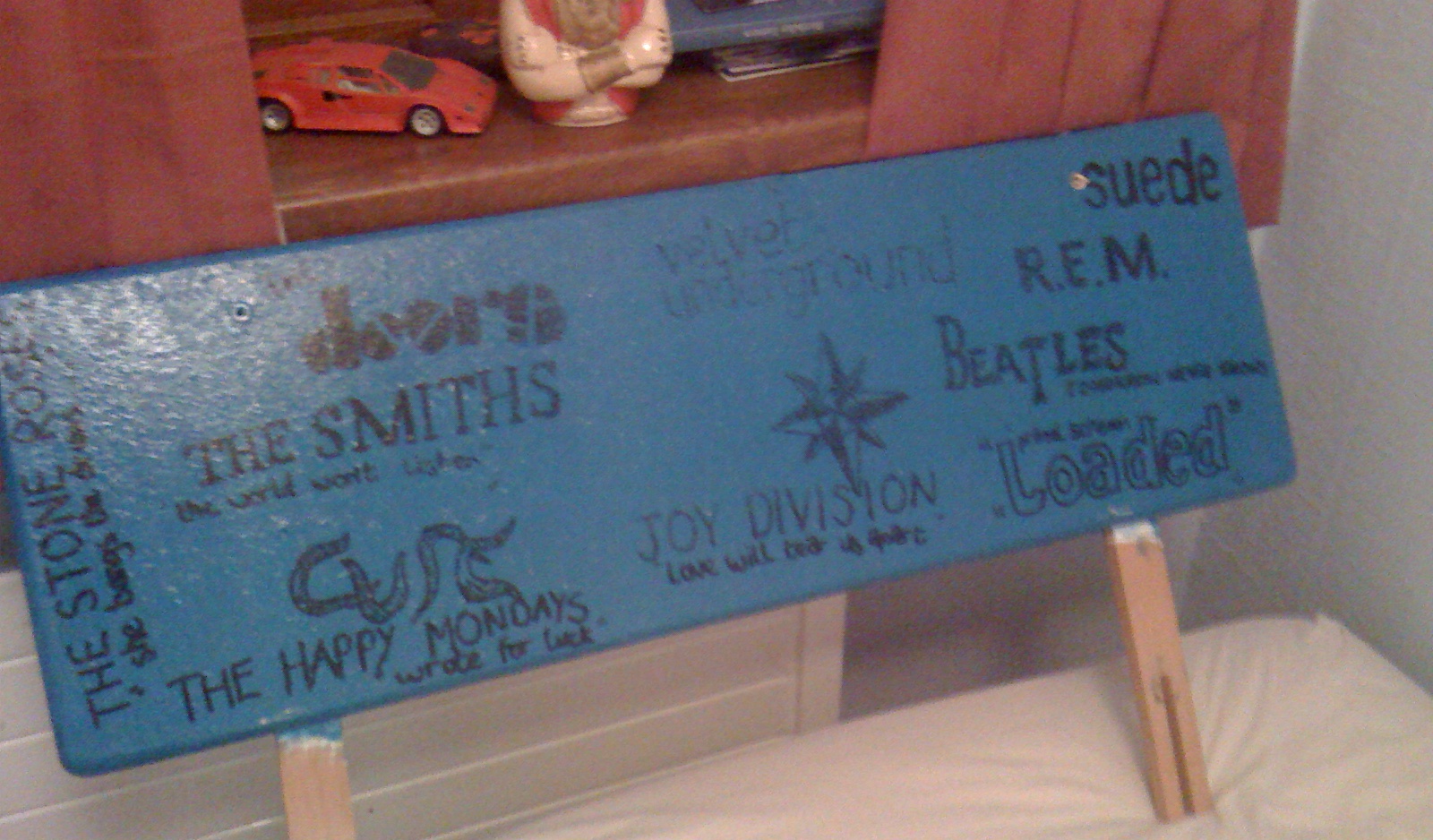 By a cunning process of elimination, I've deduced that I illustrated this headboard when I was in late second or early third year i.e. some time after the release of Suede's debut album in March 1993 (I've clearly copied the Suede logo) but before the release of Pulp's His n' Hers in April 1994 (or else that surely would have figured.)
I'm not sure how much peyote was floating around Ballyhaunis in the mid-nineties, but I had (until now) blotted out all memory of having ever liked The Doors. Read the rest of this entry »
Published: Irish Times, September 3 2009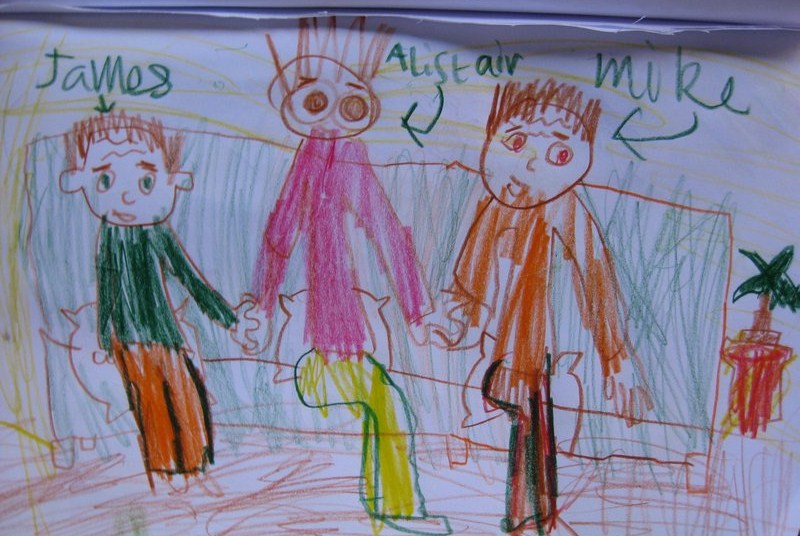 So you're finally moving into a place of your own? Congratulations, first and foremost. In a world that never fails to deliver its share of letdowns and crushing disappointments, this is one rite of passage that actually lives up to the hype. Before outlining some of the comparatively minor pitfalls that may lie ahead, it is worth taking stock again of what precisely you stand to gain. Read the rest of this article here.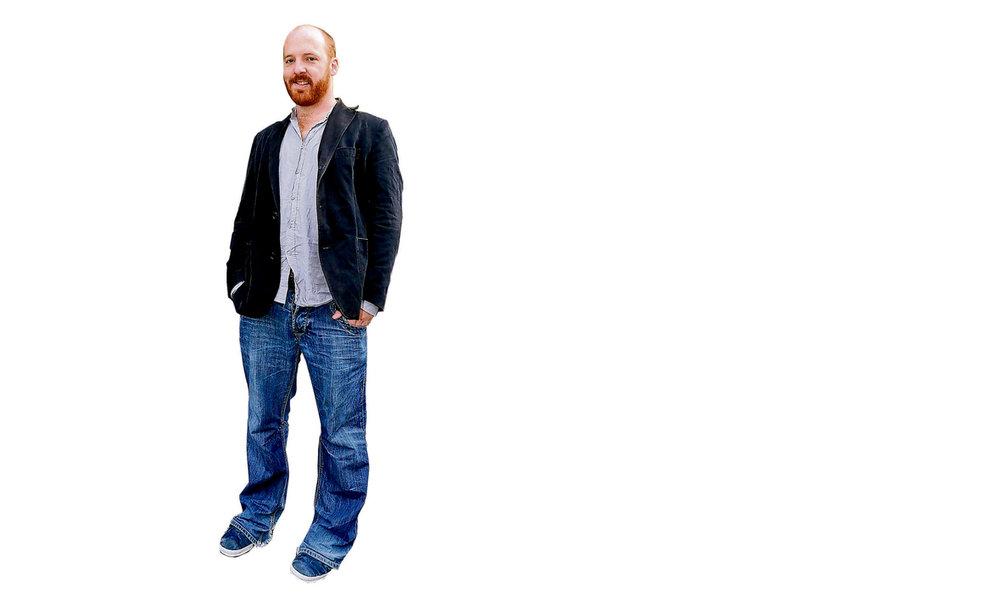 "Let's say you have a job interview?" Louis Copeland runs his tape measure around my back, pinches it at the chest and squints. "My first question to you would be, what line of work are you in? Because it depends, doesn't it? Architects go for a wacky, modern look. Solicitors tend to prefer a classic style. Whereas journalists…"
He looks me up and down and trails off, somewhat despondently. Read the rest of this article here.

On the evening of September 11th, 2001, as the initial shock of what had happened began to abate, I remember my thoughts turned to what would come next. Events were still in flux, but it was already clear that whatever happened after the dust settled in New York, it wasn't going be pretty.
That evening I was sick of staring at the television so I went out for a drink. It was Slattery's on Capel Street. On the television in the corner, Sky News was showing night vision pictures of the skyline over Kabul. I assume now that those pictures showed the Northern Alliance shelling Taliban positions. But at the time no one, not even the Sky News reporters, seemed to be quite sure who was firing, or who was being fired upon. I just remember people – punters, barstaff, everyone – staring at the television screen in grim silence. And this ominous refrain playing over and over in my head… Read the rest of this entry »