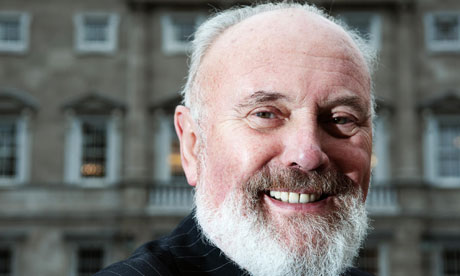 Being president of Ireland is a bit like playing in goal for Barcelona. There isn't much to do most of the time. But when there is, it's rather important not to fuck it up. The presidency of Mary McAleese has been exemplary in that respect. She's been in the job fourteen years. Off the top of my head, I can recall only two things she did in all that time.
In the wake of September 11th 2001, she conveyed Ireland's heartfelt sympathy to the United States, while also (gently) advocating a restrained, proportionate response to the attacks. Ten years later, during a visit by the British monarch, she delivered one note-perfect speech, and four heroic days of inane chit-chat, on the nation's behalf. The rest of the time, she could have been running cock fights in the Aras for all we would have known or cared. It's a shitty job really. The Irish president is required to be intelligent, thoughtful and informed. But 99.9% of the time, her erudition is best exercised saying and doing nothing of any substance.
This is why the reaction online to the apparent implosion of David Norris' presidential candidacy is so bewildering. The senator is an irreverent, opinionated, irrepressible guy. Those are great qualifications for the job of newspaper columnist, stand-up comedian or national fun-uncle-in-chief. But precisely the worst ones imaginable for a ceremonial head-of-state.
Personally, I don't believe any grey area does exist on the question of pederasty. But I have no quarrel with that discussion taking place and an alternative opinion being voiced.
Where Senator Norris' candidacy unravels, in my opinion, is on the question of his judgment. Surely it requires only the most remedial level of political acumen to grasp that, in the wake of the Murphy and Ferns Reports, the public is in no mood to indulge a candidate who isn't sure there should even be a legal age of consent.
The controversy over Senator Norris' 2002 interview with Helen Lucy Burke could well have been defused if he had distanced himself decisively from his earlier remarks and moved on. But on Morning Ireland yesterday, two weeks after the furore erupted, the Senator was still flapping about so incoherently on the subject that the interviewer, Aine Lawlor, had to remind him he wasn't running for president of ancient Greece.
Accusations that Norris is victim of a homophobic witch-hunt are also wildly off the mark. In a hundred political lifetimes he will never be asked a question easier than "Where do you stand on the issue of sex between adults and minors?" Believing otherwise is like believing Sarah Palin was a victim of gotcha journalism when she failed adequately to answer the question "Name a newspaper?"
Even the most level-headed among us can have their lapses. President McAleese caused genuine offense in 2005 when she appeared to compare the treatment of Catholics in Northern Ireland to the plight of Jews in Nazi Germany. She was in office eight years at that point. How long do you suppose it would take President Norris in office to replicate the damage caused by those careless remarks?
On the evidence so far, I'd say about eight seconds.
June 10th, 2011.