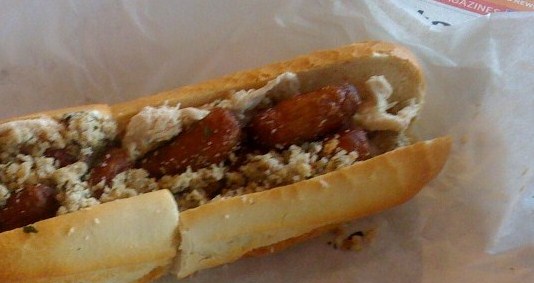 Still settling in to the new neighbourhood. Found a pretty nice, and more importantly real (see here), deli nearby today. Unfortunately, by the time I rolled in there wasn't much produce left. Maybe it's the recession, but I wanted chicken and, even after padding it out with stuffing, there clearly wasn't going to be enough to fill the roll.
Lesser sandwich aficionados would have given up and gone elsewhere.
The lad behind the counter was only 18 or 19 years old.
What's your name, son?, I asked. Muhammad, he replied.
Well Muhammad, I said, you and I are about to do something special here today. But you're going to have to trust me and do exactly as I say. Do you understand?
He just shrugged, whatever.
Mayonnaise, a little mustard, some chicken, a sprinkling of stuffing and a hint of red onion… That was the easy part. It was only when I asked him to fetch a couple of those juicy looking cocktail sausages from the hot counter, that his eyes widened.
Relax, I smiled, I know what I'm doing. But that wasn't strictly true. I was rolling the dice here and I knew it.
Lucky for me, it paid off.
The finished product looks disgusting, I'll grant you that. But holy moly, I think I've just invented one of the nicest sandwiches of all time. You've got to try it. I'm still working on a snappy name – something like Bangers n' Chick, but less lame. All suggestions gratefully received!
September 30th, 2009.